When talking about front porch railing ideas, there is a thing that is very suitable for us to discuss. It is none other but the different types of rail itself.
At this point of time, there are so many types of railing for front porch area that you can find. However, only some are most popular, and the proof is the number of people who select the ideas instead of the others.
To make your searching more comfortable, in this post you can find the 13 most selected front porch railing ideas that you can take into consideration before making a choice. Every design comes with a brief explanation that will tell you about why it is an excellent selection to consider.
1. Cable Railing
Cable railing may look too simple for some people. It is also a beautiful option for the front porch, mainly because it comes with posts in the design.
Back then, metal posts were the most common to pair with this railing type. Although so, right now people use many other materials including wood that can create a beautiful contrast look.
Visually, cable railing looks quite slim. However, it is still quite easy to spot.
The cables are visually neutral. It means you can match them with any other railing features without having to worry about an incompatible look.
One thing that you must pay more attention to is the pressure on the cable. If it is too much, it can cause each cable to become weak, so there will be a potential that it will break apart.
2. Chippendale Railing
The design of this railing type is unique. It consists of some lines that finally form an unusual X shape in the middle.
If you are looking for a railing that will arrest passerby' attention, this is the right selection to pick.
It will give you a detailed and beautiful look, and it is an excellent choice for horizontal railing. Although so, you need to know that because of the design it may be harder for you to paint it. The painting process will take more time too.
3. Craftsman Railing
Craftsman is another popular choice when it comes to the front porch railing. It is quite simple but is suitable to pick for many front deck styles.
For the description, it consists of slim lines series organized symmetrically. Commonly, it uses vertical pattern although sometimes a horizontal combination also exists for a different variation.
The material commonly used for this railing style is wood. That is why it looks perfect for front porch hardwood flooring although it can be an exciting selection for other floor types too.
If being asked about the advantages, the first one is the dense look that offers an excellent covering for your porch area without making it looks too private. Besides, it also has a very similar look with picket fence but is designed for the porch.
Other than the advantages, some disadvantages also occur. For example, if you choose the wrong design, the result may look like a jail-like atmosphere that is quite uncomfortable. Cleaning and maintaining the railing could be hard to do too, mainly when the space between each vertical post is too tight.
4. Criss Cross Railing
Criss-cross porch railing style looks simple. Every panel consists of one big X shape, which is also known as a diagonal cross.
This simplicity becomes excellent. It is an even better choice because it is suitable to use in any home exterior theme from the traditional to the modern.
Another good thing is that it offers the possibility for you to paint it in any color you like. Although it is such a good thing, it is essential to choose the paint carefully so later it will create a compatible point between the railing and the home exterior design generally.
One more thing you need to know about this front porch railing type is that it is quite easy to maintain. The big cross shape is the reason behind this fact.
5. Glass Railing
Glass railing is an excellent selection, especially for a modern exterior. It looks simple and fabulous at the same time.
When you hear about glass railing, you may think that it only refers to a clear one that allows you to see through it. The fact is that it is available in more than just one option, including the semi-transparent and the frosted ones.
You can pair glass sheets with both metal or wood posts to create a railing for the front porch. On the other hand, the design is quite various.
There is a glass railing that seems to be uncut or look like long straight sheets. There is also a design with an opening or post between each sheet.
Before you decide to choose the glass rail for your front porch, there are several things you need to think. First, this railing type requires a lot of cleaning to keep it looking good.
Second, unless you choose glass sheets with an anti-scratch feature, you need to know that regular glass can easily get scratches. The example is when the railing accidentally has contact with furniture or some other things.
Third, if the glass panels are clear, there is a big chance for birds or other animals to bump into it. It is because they possibly cannot see it.
6. Lattice Railing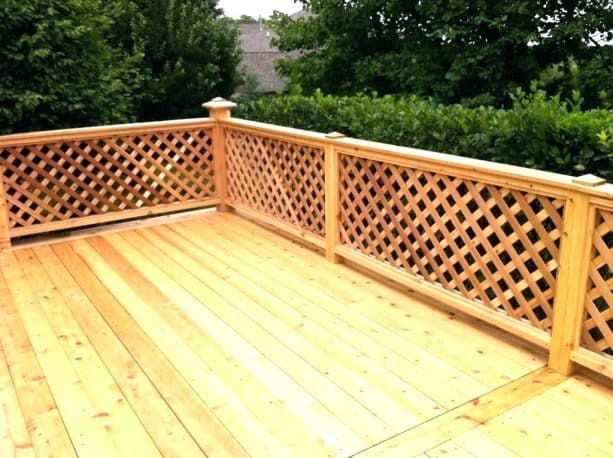 Lattice railing is suitable to call as one that is quite easy to build. The reason is that you can use pre-made panels and then pair it with cap and other features to create the porch rail.
This railing type is also an excellent choice for you who have small kids or pets at home. For them, it offers some extra protection.
At the same time, it also provides beauty. It also gives good coverage while still allowing some breeze to pass through the holes.
Lattice panels, which are none other but the main stuff needed for creating this railing type, is available in different material options and even various ranges of price. It means there is a big chance available for you to suit everything based on your needs, budget, and preference.
Another sure thing you need to know too is that lattice railing is customizable. It has a relation to the fact that you can color it to match the home exterior color scheme or to suit the personal taste of yours.
7. Recycled Pallet Railing
Another money-conscious suggestion you can consider is front porch railing from recycled pallets. When it comes to affordable DIY projects, we all know that this material is one of the most popular options. In this case, the specific item to create is railing.
The best thing about using pallets as the primary material for your railing is not only about how affordable the price is. It is also about how easy for you to get the items needed. You can find recycled pallets easily no matter whether you want to order it online or to purchase it directly from the seller.
The thing that you need to consider more when using pallets to create front porch railing is that it is almost certain that each of the planks does not have the same look with another. Please do not take it as something wrong because it can create uniqueness in the railing design later.
Another thing you also need to know is that vertical railing is not the only one you can create by using recycled pallets. The same material is also excellent to make horizontal railing as long as you know the right design to use.
About the appearance, there is no need to worry. No matter whether you want to keep the original look of the pallets or you want to add color to it by using paint, both are equally gorgeous.
8. Rope Railing
Using the rope as the front porch railing material is an excellent idea. It is not only more affordable than some types of rail base, but it also has a beautiful appearance.
Rope looks good when paired with wood. Together they can create an adventurous atmosphere in your front porch, especially when there are quite a lot of trees in your land. the look will remind you to some outbond places that you have visited.
You can also create a stunning nautical look when you design the railing with a single rope arranged in horizontal position. It will be even better if you paint the post in bright colors like white or bright blue, which are just perfect to the nautical theme.
If you want to, you can even create some patterns by plaiting the rope. Although the process may take more effort and time, the result will be stunning.
One crucial thing that you need to know is that there is a chance for the rope to come apart when the weather conditions are quite extreme. It means, when you choose rope railing for the front porch, you need to be ready to prepare replacement whenever required.
9. Rustic Railing
When you hear about rustic railing, your mind probably goes directly to rails made of wild rough wood. Well, although it is true, it does not mean that when you want to create this railing type, you must get the wooden material from the wild since it would be troublesome.
At this time, special treatment for wood is available to create a rustic look. It includes purposely-made rough spots and edges.
Rustic railing design is random, but it is the one that makes the railing unique and exciting. It has a naturally beautiful look because of the wood material too.
As for the price, it is commonly cheaper than any other railing types. The primary cause is that you don't need professional treatment for it.
Although you can create this railing in a DIY project, the installation might be more difficult because each wood piece is different from the other. You also need to check each wood piece properly because there is a chance for the pieces to fall apart when not installed correctly.
It is true that painting the railing is possible to do here. However, the best rustic look will come out when you leave the wooden material unfinished or when you just a apply a clear protective coat to it.
When painting, please realize that the irregularity of the wood pieces makes the process more difficult to do. It also applies when you want to stain it.
10. Sawn Baluster Railing
Another option you can pick for front porch railing is sawn baluster style. This one is wonderful because of the unique pattern it has.
This railing type has a repeated design. It has vertical panels, and each comes with a unique cutout in the middle.
One thing that you need to know is that there isn't only one specific cutout pattern for sawn baluster railing style. You can use any choice you want as long as you think it is suitable for the vertical panels. The most important thing is that you can repeat the pattern through the whole boards.
About the color, you can apply any color you want. Although so, it looks excellent with a lighter tone. If you choose a dark color, it will be difficult for you to see the railing.
The maintenance is also not an easy one. You must do it carefully to avoid the railing from tearing apart or wearing out.
11. Sunburst Railing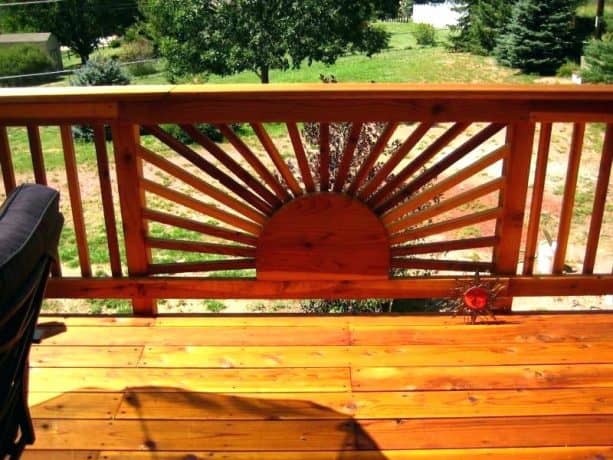 The word 'sunburst' in this front porch railing type refers to the fan-like design consists of straight lines, which seem to bloom out from a bottom spot. This look is also the reason why the other name of the rail is fan railing.
The width of the sunburst shape in this design is various. You can make it as broad or as narrow as you want.
The detail makes the riling design so attractive and inviting at the same time. Although so, it still has the simplicity so it won't look too much in any front porch style.
The challenge of having this railing type has related to cleaning, which you must do once in a while. We can say so because sunburst rail has a lot of pieces and some of them create a very narrow space that is quite hard to clean. Cleaning the fence will inevitably take time because of that.
12. Turned Baluster Railing
For you who prefer a more traditional look, turned baluster railing is the one we recommend you to pick. The design consists of a series of curved cylindrical shapes.
For you to know, this railing type is one of the most elegant baluster rails exist right now. The design also looks classy and tends to go to the more formal side.
To get the most attractive look, you need to consider the choice of color for this railing carefully. As a suggestion, bright colors, especially the choices that belongs to the white category, work better for it.
13. Wrought Iron Railing
Nowadays, the wrought iron railing is a thing we can use at our house. At a glance, it is evident that this exterior detail provides not only an elegant but also classy look. Both create a comfortable visual for both homeowner and those who pass by.
Wrought iron railing is now also available in so many designs. For you to know, the options for patterns are endless. You can even add color to it if you want to although the original color or the base color like black is already stunning.
Before choosing this front porch railing, you need to know that rust is a problem that you may find after some time. That is why considering special anti-coat rust is a solution we recommend you to choose.
Besides, you possibly need to do re-coating every once in a while. It is one of the best way to keep the quality of your wrought iron railing.
So those are all the 13 most selected front porch railing ideas you can take into consideration is by any chance you now have a plan to build a new porch or to remodel the old one you already have at home.
No matter which choice that you think to be the most interesting one, it comes with advantages and disadvantages that you must consider adequately. This way, you will get the best railing type that will not only make your home exterior looks stunning but also provide you the function needed.