Finding a railing for your outdoor stair may sound like a simple project. However, when you finally find out that endless options are available out there, it will not be easy to do anymore.
If you try to see it from a positive point of view, it can actually be a good thing. Anything you need, you can definitely find it.
The confusion pops out when you must choose to pick one among the others. If you really do not know where to start, something like this can consume much of your time and even give you a headache.
In this post, we will share with you 7 aesthetic outdoor stair railing ideas that contain the combination of both function and aesthetic value. Hopefully, this post can be a good starting point to make everything easier and headache-free.
1. Simple Metal Railing Painted in Black
From all the types of railing for the outdoor staircase available right now, we would like to start with a black-painted rail with a simple design. A choice like this is relatively easy to pair with any exterior style.
1.1. Black-Painted Wrought Iron Railing for a White Contemporary Outdoor Stair
As the first example, you can take a look at the simple black railing of this exterior remodeled by Jacksonbuilt Custom Homes. This element also has white posts as the details coordinating with the home design.
We know that there is nothing wrong with a simple choice from it. Just look at how fabulous this house's whole exterior stair design is.
The black paint, Sherwin Williams Hitching Post Black DCR 108, makes the railing a suitable addition for the black and white color theme. It looks matching with the dominant color of Benjamin Moore Chantilly Lee OC-65 as well as the foundation and trim painted in Sherwin Williams Ellie Grey SW 7650.
1.2. An Even Simpler Square Tube Steel Handrail for Outdoor Staircase
Do you think that the previous idea is not simple enough? If that is so, you can take a look at this one.
This contemporary wood and pebbles staircase has a square tube black steel railing for safety value. As you can see, the design by Sion Structural and Ornamental is so simple without any decorative elements at all.
The best thing about it is that it does not block the landscape view since it does not have any balusters or panels. Something like this would be a perfect choice to create a pleasant natural experience whenever you walk through the staircase, especially when you have a beautifully-designed landscape that is just too pretty to miss.
For this example, the builder shared no specific paint information. However, it is stated that it is a semi-gloss black paint. As for the size of the railing tube, it is 1,5 by 1,5 inches.
1.3. The Pairing Between Metal and Cable in a Contemporary Deck Stair Railing Design
Simple, black metal railing can also look attractive when paired with cable as an alternative to the traditional balusters. As an example, you can look at the one created by Kikuchi + Kankel Design Group.
The railing of this deck stair pairs both metal and cable materials to create a contemporary feel that perfectly matches the residence exterior. At the same time, the combination does not block the view of the green landscape for the sake of a soothing transition from the street to the home area.
Here is a closer look at the stair railing design if you are curious about it. As you can see here, it becomes a really nice pair for the relatively spacious stairway.
2. Outdoor Stair Railing with Three Materials; Metal, Cable, and Wood
The next exciting design that we recommend you pairs not only two but three materials at once. Those are wood, cable, and metal.
2.1. The Combination of Wood, Metal, and Cable in a Contemporary Boat Docking Stair Railing
Sometimes a stair railing design can combine three different materials at once. The creation of Quigley Decks you see in the picture is an interesting example that we found.
The three materials used in this railing design are wood for the handrail, cable for extra security, and black metal for the posts. The color combination between them creates a cozy and elegant visual, both aesthetic and excellent for the natural surroundings.
Here is a more detailed look at the stair railing. With a design like this, we can freely enjoy the scenery offered by the environment. Going down to the boat docking will definitely be full of relaxing experiences.
3. Extra Light and Ambiance with Outdoor Stair Railing with Lighting
Are you looking for a stair railing that does not only offer you safety but also ambiance? If that is so, the ones that come with lighting are the most excellent to consider.
3.1. Post Cap Lighting Stair Railing Feature for a Warm Ambiance
This railing idea by Trex is unique because it includes the function of rail as a safety feature and has a beauty value that enhances the look way better. We said so because the railing post comes with an exceptional detailing called the post cap lighting.
Together with the stair riser light, it creates a glow that enhances the safety and beauty at the same time. A choice like this is perfect if the stair leads to an outdoor living area, like a deck. The warm and cozy ambiance helps create quality time with the closest ones there.
For you, who are curious about the type of stair railing used here, it is called Trex Transcend. It comes in various colors and materials to match your needs.
3.2. Brighter Steps with LED Lighting on the Stair Railing Newel
A light feature is not only possible to add to the stair railing design cap. It can also be added to the newel, as you can see in the picture above.
The stair railing you see here is made from the DesignRail Kits by Feeney. It gets the LED light feature that gives the space extra light.
Something like this is beneficial for creating an ambiance and aesthetic look at night. It also makes the first step of the stair more visible, which is very helpful when the area is quite dark. This way, people will not trip.
3.3. Stair Railing with Under-Cap LED Light
As shown in the picture, an outdoor stair railing can also have an under-cap LED light. Compared to the ones with lighting in the cap, this one is more concealed.
You can look at the modern deck stair railing design shown in the picture above. This one gets the Feeney LED lighting under the cap. The same lighting system is also used on the railing in the deck level area.
4. Natural or Unfinished Wood Railing for Rustic Outdoor Stair Design
Are you into rustic exterior design? We recommend you choose a natural-looking or unfinished railing for the outdoor stair if that is so.
4.1. Natural Wood Railing with Clear Coat for an Eclectic, Rustic Ambiance
This wonderful creation of Creative Woodworks Inc. really catches our attention. Just look at how stunning this piece is.
The wood choice looks highly natural. It even gets a clear, glossy coat to make it look even more impressive.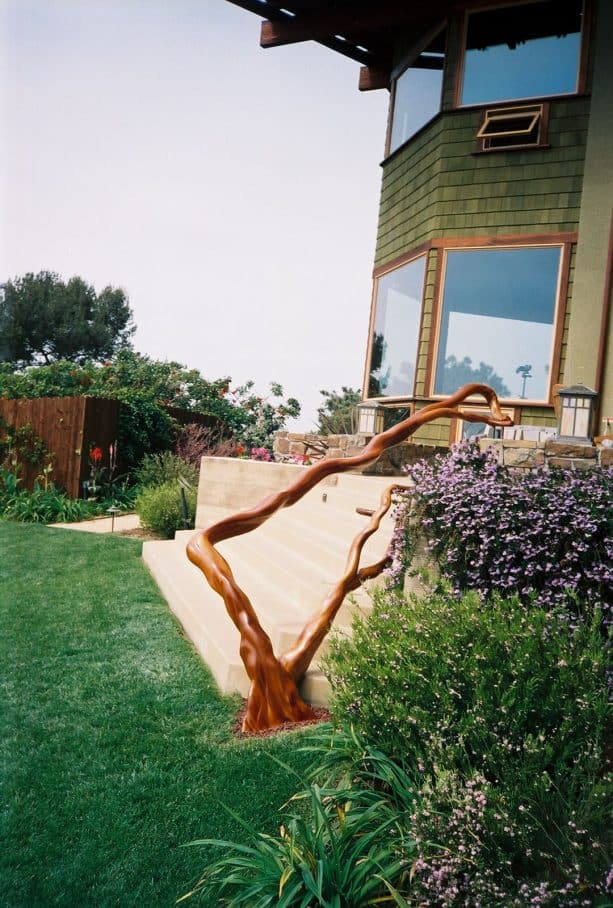 The thing that we think to be very unique is located in the lower end part. It looks as if it really grows from the ground.
4.2. Unfinished Wood and Cable Railing Can Create a Rustic Look Too
If you do not like the natural-looking wood railing as shown in the previous example, of course, you can choose something else. The model that we choose for you is this rustic wood and cable railing by Andrew A. Willet Architect.
It comes with a combination of two materials. Those are unfinished wood and cable.
The design may look simple. However, it has a certain charm that makes it look fascinating. More importantly, it excellently matches the exterior design of the house, which is simply beautiful.
5. Glass Stair Railing for a More Open Exterior Feel
The following choice of outdoor stair railing that can give you both function and aesthetic value is glass. It even offers a more open feeling to the exterior of your house.
5.1. A More Open and Spacious Feel with Glass Railing with Metal Posts
We choose this fabulous glass railing design by Mullet's Aluminum Products Inc. as an example to show you. It has a combination of metal posts and glass panels. As for the steps, it looks like concrete, matching the contemporary patio design.
Another thing that we love about the glass outdoor stair railing is that it actually matches the exterior design of the residence, in which glass is one of the most dominant materials. As you can see in the picture, the railing and the stair excellently blend with the background, which is the house.
5.2. Seamless Glass Railing To Create a More Open Feel in Semi-Outdoor Area
You can choose a seamless glass railing for an even more open feel instead of others.
A stair railing like this is simply stunning. Besides, it creates an illusion that there is no railing used for the safety feature of the staircase.
5.3. Outdoor Glass Railing with Round Metal Handrail
Here is another idea by KSR Architects & Interior Designers that we cannot just miss. It also has seamless glass panels as the railing.
The difference is that it also has a round tube handrail for extra convenience and safety whenever the stair is used. The color of the handrail matches the concrete steps really nicely.
6. Bamboo Stair Railing for Asian Theme
Do you have an Asian-themed landscape? A bamboo railing will be an excellent choice for the stairway if that is so.
6.1. Bamboo Railing for Perfection in an Ancient Asian-Themed Landscape
Bamboo is always a perfect choice of materials for Asian-themed landscapes. Of course, this idea works, too, when it comes to the stair railing.
The simple yet gorgeous bamboo railing you can see in the picture is a good example. It matches the natural surroundings and looks really lovely, becoming the pair of natural stone steps and walls.
7. Outdoor Metal Stair Railing with Decorative Design
The last but not slightest idea that we recommend you to consider when thinking about railing for your outdoor stair is decorative metal. It comes in vast choices, from the ones with balusters to laser-cut panels.
7.1. A Mediterranean Exterior with Decorative Metal Stair Railing
There is nothing better than a black, decorative metal railing to match such a beautiful tile staircase as the one you see in the picture. Morrison Interiors really did a fantastic job in this one.
The decorative design of the metal railing is actually quite simple. However, it is also very fabulous at the same time. A look like this will never be worn out by time.
8. Closing
What do you think about the 7 outdoor stair railing ideas that we have shared above? Don't you love them?
We try to say to you from all of those that, when located outside the house, a stair rail functions as more than just a safety feature. It also works as something to boost the visual of the home exterior.
If you have difficulties choosing the right one, take your time observing the style you choose for the house. You can match the railing with the exterior design to make everything look even better.