Originally, a shed was a storage structure used to place items like gardening equipment and tools. However, as time goes by, it becomes more and more suitable for other functions, including an animal shelter, studio, workshop, a room for hobbies, etc.
The shed with garage door has a wider opening, making it easier to load and unload items from so many available design options. Depending on the function, such as a guest room or a studio, it also has a more open feeling despite the commonly small and limited characteristics.
Here, we will show you 15 remarkable ideas of sheds with a garage door as the entrance that gives it a wider opening and a more open feeling that makes the interior look more extensive. If you are thinking about building one, this post is the right place to start everything.
1. Cozy Mediterranean Shed with Folding Garage Door
As we already told you earlier, the shed no longer functioned only for storing garden tools and equipment. There are so many other ways of using it now.
This Mediterranean shed is an excellent example that we found. This structure, located right next to a swimming pool, has a primary function as a bar. Something like this is highly recommended for you, who often host a home party.
The color scheme chosen for this shed is just perfect. It has warm tones that produce a cozy and inviting atmosphere.
The thing that arrests our attention quite the most from the design of this detached structure is none other but the folding garage door. It is an element that makes the shed even more perfect to use as a part of every party.
When the door is open, it does not only show the primary function of the shed very clearly. Instead, it also makes it way more convenient for everyone to access the bar area.
2. Gorgeous Shed with Accordion Garage Door and Reading Loft Inside
Space limitation often results in a minimal size of a shed. The use of garage doors often becomes a solution to give a more open feel to the interior.
As an example, you can take a look at this traditional shed. It has an accordion garage door with a glass feature that makes the interior feel even more open and spacious.
Entering the shed, you can see a white table and a pair of wood stump chairs. At the back, there is a cabinet that is functional for storage.
The interior here is arranged simply to avoid clutter that can make it even more cramped. The detail that is quite catchy here is the free herringbone pattern on the floor. It makes the simple yet cozy interior visually even more attractive.
From a ladder, the reading loft above is accessible. It consists of a bed with a decorative rope railing, pillows, a reading lamp, and even a blackboard.
This reading loft may look simple, but it is more than enough to become a place for reading favorite books with all those details. This place is even suitable to use by both adults and kids.
3. Grey Farmhouse Cottage Shed with Black Garage Door
The size of a shed can be pretty large too. Although so, using a garage door as one of the entrances in the design can still be a good idea here because of all of its benefits.
This detached farmhouse shed that you see in the picture is one of the examples. It has a bold black as a match for the grey and white exterior.
The thing that is quite interesting about it is that there are two other garage doors on the other side, but they are in white color. Can you imagine how it looks when all of them are opened? It will indeed feel even more open and spacious in the shed.
We are not sure how the first floor of this shed is used since there is no detailed information shared about it. However, with a pretty ample space like that, it can be more than enough storage structure.
The second floor, on the other hand, has a particular function. It is a studio office.
4. Space-Saving Sectional Garage Door of a Beautiful White Farmhouse Living Shed
Here is another gorgeous example of a shed that comes with a garage door in the design. Here, there are actually two types of entrance used, a frosted glass sectional garage door and a man door on the other side.
From inside the shed, you can see the system installed to operate the sectional garage door. It does not take any floor space, so it becomes an excellent choice for the tight place.
Another thing that we love here is that the sectional garage door is also in black color. It matches the other door and window frame, cabinets, and even the hues of other items such as the chandelier and the faucet.
From this view, we can see that this shed functions more as an alternative living area complete with chairs and an ottoman table. It even has a wet bar at the back, including cabinets, a wine cooler, and a sink. To perfect everything, there is a small bathroom at the back too.
With all those, the shed becomes a cozy place to welcome your favorite guests, no matter whether it is your close friends or relatives. You do not even have to worry about the space limitation because you can always open the sectional garage door to gain a more spacious feeling.
5. Small Greyish Blue Shed with Double, Hinged Garage Door
We are so amazed that nowadays, sheds come in really broad design options so that even the small one can look really attractive. This greyish-blue structure is an excellent example that we want to talk about here.
If we see it from its size and location, it seems that it is a garden shed. It is commonly used for storing pots, equipment, and tools for gardening.
Related to our topic in this post, you can also see that this shed comes with a double opening, hinged garage door as the primary and only entrance. The style that you see here is often called carriage house door design.
The garage door even comes with a glass feature that, together with the regular window, allows some moderate amount of natural light to enter the interior during the day. This structure even has decorative ventilation at the roof.
All those details help in keeping the excellent air and light flow inside the shed. It helps prevent fume and mildew from building up inside.
6. Simple Yet Fabulous Guest Room in a Farmhouse Shed with Sectional Garage Door
Do you only have minimal space in your land, but you want to build a comfortable guest room? If yes, you just need to create a shed with a sectional garage door, as you can see in the picture.
As shown above, the size of the shed is relatively tiny. Although so, it does not mean that you cannot impress your guest with minimal space like this.
All that you need to do is decorate the interior properly to create a comfortable and cozy look at the same time. The choice of soft white and grey colors is neutral, but it also creates a pleasant ambiance that is perfect for resting, primarily when supported with such lights.
When the room is not used for resting, the sectional garage door can be opened to create a more spacious and open visual. Moreover, there is a Dutch-style door at the back, which top can be opened to make it feel like there are more windows in the room.
7. Simple Z-Bar Garage Door for a Studio Shed
If you love to paint, this eclectic shed can be a perfect example to get inspired from. A place like this can be the best and peaceful one for you to spend time doing the hobby you love the most: painting.
If seen from the choice entrance, you can see a double-opening, z-bar style garage door. It seems to have a similar grey color to the one used on the ceiling.
The interior of this small shed looks so simple and functional at the same time. It comes with some painting tools, seats, and a round table.
At the back, there is a floating shelf that is used to place some artworks. Something like this can add more function to the shed, a showroom for some of your works.
8. Writing and Workshop Shed with Sliding Barn-Style Garage Door
Here is another example of a shed that has a garage door as the main entrance that you can use for working or doing your hobby. FYI, this one is designed especially for writing and a workshop studio.
The type of garage door used here is a double, x-bar, sliding barn door. It saves space and provides a maximum opening for an even more open interior ambiance whenever needed.
The choices of furniture places there are also versatile. It consists of a table and four chairs.
These choices make the interior suitable to use in many ways, such as for writing, holding meetings, and even as an alternative eating place if you want to.
9. Unique Garage Door in a Modern Tractor Shed Design
In a farm or plantation, a shed can also function as a place to park a tractor used for making the work easier and faster. If something like this is the one you have or want, take a look at the picture above.
Although in simple words, the structure is only used as a garage for the tractor or maybe to store some tools and supplies too, it does not mean that you can design it attractively. This shed, for example, has a stunning modern look with a charcoal sheet metal exterior and a unique wooden garage door.
When opened, you will know that this entrance is actually in a sliding type. Other than this one, you can see that there is also a man door, which is more convenient to use when no wide opening is needed, such as when the tractor is required.
The unique design of this wooden sliding garage door is just exceptional. It not only suits the modern vision of the whole structure but also boosts the decorative value of the shed itself.
10. Grey Deluxe Shed with White Sectional Garage Door
A sectional garage door that is suitable to use for a shed comes in various designs too. If you have previously seen some examples with glass features, we will see a solid choice this time.
The solid white sectional overhead garage door in the picture is an example that you can take a look at. Its white color is a good match for the exterior trim, frame, and also door color.
The thing that you see in front of the small garage door is a pressure-treated ramp. Something like this commonly makes it easier for you to load and unload heavy equipment from the storage shed.
Just in case you are curious about this beautiful grey shed, it is the creation of Shed City and Outdoor Living Ltd.
11. Extra Storage Space with 2-Story Shed with Full-Size Garage Door
The following example is the creation of Hometown Structures called the Homestead Dutch Colonial Shed. This 2-story building has a full-size garage door as the big entrance. On the side, there is a smaller one available.
With such a large first floor like this, clearly, you can get extra storage space. You can store anything you want, including some large equipment that you cannot safely place anywhere else. Such big stuff can even be stored inside easily because of the large garage door.
The best thing of all, you still have the second floor for something else. You can use it for a home office, a man cave, or something else you cannot include in the primary residence because of space limitations.
12. Large Storage Shed with Double-Opening Garage Door To Complement the Exterior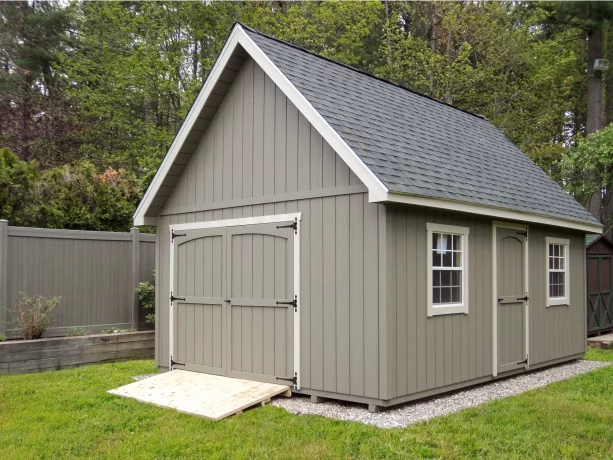 If you are someone who always prefers to keep the whole exterior design in a coordinating color scheme, please take a look at this shed design as an example. It is called the Homestead Hampshire Shed.
This structure comes with a double-opening garage door. The thing that catches our attention quite the most is how the color was chosen for the entrance and the body of this shed looks highly similar to the fence hue.
The idea of using a color scheme like this gives you ease. You do not have to think too hard about what hues you should use to make the detached shed look like it belongs to the exterior design and other elements included there.
13. A Coordinating Look Between a Detached Garden Shed and The Main Residence
Still, about a coordinating look between a shed with a garage door and the primary residence, we have another excellent example that you should not miss. It is none other but the detached garden storage structure that you see in the picture.
As you can see, both the shed and the house share the exact same taupe color. Not only that, even the type of siding used here is the same.
To complete the look, the shed also has white exterior color. It is the same hue used on the carriage house-style garage door too.
14. Contemporary Art Studio Shed with Glass, Sectional Garage Door
Is a garage door alone not enough for you to make the shed gain an open feel in the interior? If that is so, you can look at this contemporary art studio structure to get inspired.
From the front view, this detached structure has a sectional glass garage door. It makes the inside of the building visible from the outside and, on the contrary, it also makes the outside visible from inside, making it feel more open.
We can see that some items are placed right next to the sectional garage door from the interior. It is not a problem concerning accessing the space because once the door is fully open, you can go in and out easily whenever the art studio is in use.
The last but not most minor detail that we love about it is the sliding glass door at the back. It is the detail that we say to give an even more open feel to the tight interior. Besides, it also provides extra entrance for even easier access to the studio.
15. Fascinating Green Roof of a Garden Shed with Sliding Barn Garage Door
The last but not least idea that we want to show you is this wooden garden shed. If we're going to talk about the entrance, it comes with a double sliding garage door with the same wooden appearance.
The thing that makes this exterior structure unique is that it has a green roof with natural growing plants. A detail like this does not only enhance the nature-friendly value of the building. It also gives another benefit related to its storing function.
We meant none other than the fact that a green roof can cool down the temperature inside the shed. It will make it safer to keep gardening supplied inside, including also the ones with chemical contents.
Closing
The main benefit offered by a shed with a garage door is that it has a bigger entrance that will be a plus point for storing items in the structure. It also provides a more open sensation that is excellent when the building is used for something like a guest room, a home bar, an alternative living room, etc.
So, if one or more of those benefits are the ones that you are looking for, choosing a garage door for the shed is a highly considerable decision to make. Of course, it does not mean that the entrance size must exactly be the same as a regular one used for a garage because basically everything will be suited to the size of the structure.
So, what do you think about all the remarkable ideas that we shared above? Is there any that you like more than the others?