Calming, refreshing, and relaxing are all the feels that we can get from the application of sage green color in home design. The best thing of all is that this shade is also versatile to use in any exterior and interior parts.
Because of those facts, it becomes reasonable for many people to like it. Do you like it too?
If yes, this post is the one for you. Here, we will show you how charming a sage green house is. We will share the 17 most inspiring photos of sage green exterior and interior designs to build your imagination and creativity to use the color in your living place.
1. House Exterior with Sage Green Color and Grey Stone Material Combination
Sage is a green color with subtle to strong grey undertone in it. That is the reason why grey s a color that you can pair quite easily with it.
Since we are talking about charming design here, let us show you an example of grey tones that you can choose to add a charm to the exterior. It is grey-colored stones you can use to build walls.
The house exists in the picture is an example. The sage green wall tone comes from the Mountain Sage wall siding by James Hardie.
As a match, there are grey stones used on the first floor. We do not know what the stone type used here, but you can see how it goes well with the sage tone of the siding on the second floor.
2. Sage Green Exterior with Grey Roof
There are so many options of ways available to pair sage green and grey colors in the home exterior design. If previously we saw a way to use the color combination on the walls, this time, we will show you something different.
By taking a look at the picture, you possibly know what it is. Yes, it is the matching between a sage green house and a grey roof.
In the traditional exterior above, the existence of the green tone is in the wall siding material. We do love how it looks because of the more visible grey undertone that somehow makes the house seems gorgeous. Unfortunately, we could not find any information about the color used here.
Another interesting thing about the sage wall is on the trim. It has the exact same color as the siding. The designer of this house proved that a monotonous wall and trim design could look amazing too.
The grey tone, on the other hand, exists on the roof. The type of material used here is grey shingles. The fact that its hue is not dark creates a better compatible look with the soft color sage wall siding.
3. House Exterior with Sage Green Wall Siding and Red Brick Material
When we were looking for inspirations to create this post, we found something very interesting. Many home exterior designs in this category use the combination of sage green and red brick for the walls.
That was the time when we remember something. It was that the combination might be related to the fact that red and green are complementary colors. That is why the sage tone and red brick material look good together.
From many examples available, here is one that we think to be quite attractive. In this traditional exterior, the red brick material exists on the first floor, and it is paired with the rather dominant white color of the garage doors.
On the other hand, the sage green tone exists mostly on the second floor. The material used here is Mountain Sage James Hardie wall siding, which seems to be a popular option for the pre-colored siding with sage tone.
The combination of both materials also helps the house to blend with the surroundings excellently. Something like this can be an option if you are a nature-inspired person.
Here is another example that we just cannot miss. It shows an image of a sage green farmhouse-style residence that has a red brick chimney that is visible clearly from the back view of the building.
In this design, the designer even brought the pairing between red and sage colors to the next level. As you can see, the doors, windows, and roofs are in a red brick tone, and they perfect everything in the exterior.
4. House Exterior with Yellowish Sage Green Color
Sage is indeed a grey-green color. However, many shades often come with yellow undertones too. It can be an alternative to consider more when you are more on the bright side.
If you are curious about how a yellowish sage green seems, you can look at the picture above. The wall siding of the traditional residence that you see there has Garden Sage SW 7763 by Sherwin Williams paint that creates the yellowish sage visual as a result.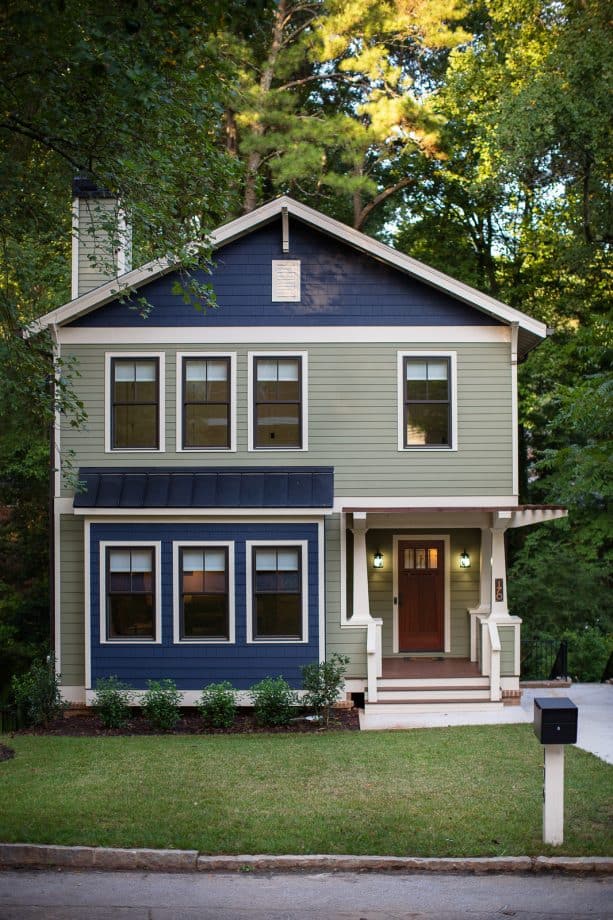 As we already told you earlier, sage green is a versatile color that you can use in so many ways. One of them is by pairing it with colors that will finally create an unexpected yet charming combination. The combo between sage and navy tones that you can see in the picture above is a unique example.
The main star of this exterior design is none other but the sage-colored wall siding. The color comes from Benjamin Moore Wethersfield HC-110.
Benjamin Moore Hale Navy HC-154 is added to create a unique appearance. This dark blue tone adds a beautiful and subtly bold touch to the house.
6. House with Sage Green Walls and Warm White Trim
Pairing a sage green wall with white trim is another easy way to create a charming exterior. You must know that white one of the best trim options for the sage house.
For a way more impressive result, you can choose warm white instead of the pure bright one. We can say so because warm white trim can complement the warm undertone that is often visible in the green color.
We love the tiny house in the picture above. The wheeled-building is indeed so small. Although so, the exterior color scheme chosen carefully by the designer creates a simply fabulous appearance.
7. Red Decorations to Build Up a Welcoming Feel in Sage Green Porch
Do you want to make the sage green exterior of your house look even more welcoming? We have a simple trick for you to do.
Here, you do not need to renovate anything from the sage green exterior. Instead, you only need to focus on the porch area. The idea is applicable in both the front and back porch. You can even use it in patio design if you want to.
The idea that we meant here is adding red decorations to the porch or patio area. If you have an alternative living space on the porch, you can add some red pillows. You can also consider potted red flower plants, which are suitable to place on both of porch and patio.
The porch picture above contains all the red decorations we just mentioned. It also shows another example of sage green paint that you can consider for painting your home exterior. It is Benjamin Moore Saybrook Sage HC-114.
8. Sage Green Exterior with Red Accent
If you want to focus more on the building when adding the red color for a more welcoming view, add some red accents to the exterior design. Of course, the way to do it is by coloring some parts of the house in red color, as done in the picture.
There are at least two paint sage colors used in this design. You can see the first tone on the upper level. It is Sherwin Williams SW 6178 Clary Sage. The second is Sherwin Williams SW 6179 Artichoke that you can see on the lower siding.
There are also red accents that you can find in some parts of the exterior. The color used here is Sherwin Williams SW 2839 Roycroft Copper Red.
9. Sage Green and White Kitchen Interior with Brass Accents
Let us talk about the home interior with sage green as the main color. As a starter, let we will share a kitchen inspiration with you here.
The use of this green shade in the kitchen interior has been known for long. It helps build up a calming and refreshing feel in the cooking space.
For a charming visual, you can try to pair the sage green tone with white. As we told before, you can choose warm white shade here if the visual that you want more is a subtle and charming look. However, if you prefer a refreshing view in the kitchen area, we suggest you consider bright white shade instead.
Another compatible detailing that we want you to consider also is the addition of brass accents. In the picture above, the brass details exist on the kitchen hardware and fixtures.
Brass details like these do not only support the charming look in your sage kitchen. It can give a luxurious feel without being too flashy as the golden yellow tone.
10. Beautiful Pantry with Sage Green Open Cabinets
This time, let us talk about something that still has a relation with the kitchen interior. It is none other but the pantry.
Let us focus more on the picture this time. From it, we want to show you how a sage green tone can even make a small and narrow place like this looks gorgeous.
The pairing between this tone and the wooden material from the shelves and floor also looks amazing. It somehow reminds us of the forest.
If you are interested in the paint color used here, it is a shade from Benjamin Moore. The name is Georgian Green HC-115.
11. Sage Green Gender-Neutral Kid's Bedroom
There are several advantages that we can get from the sage green color when it comes to bedroom design. We will explain one of them by using the picture above as the medium.
As you can see, it looks like a shared bedroom for kids or could a guest room too. The wall color that you see here is Benjamin Moore Spring Valley 438, which is a light sage green.
The use of that tone to decorate the bedroom makes the design gender-neutral, which means that it is suitable for both boys and girls. It is even better because the designer also did not use any other colors that refer to a specific gender only in the design.
If you want to decorate your kids' bedroom with sage green walls, you can add some other tones to make the room more colorful and suitable for kids. The color that we recommend you choose is yellow.
12. Peaceful and Relaxing Bedroom with Sage Green
Another benefit of using sage green tone in your bedroom is related more to the types of atmosphere it can build. Those are peaceful and relaxing.
Based on that, we can say that the color is suitable to choose for you who long for better quality sleep. Yes, this kind of green color can indeed help you in sleeping easier and, of course, more peacefully.
As we already said before, this green tone is also gender-neutral. That is why it would be a perfect choice if you share a bedroom with your loved one.
You can take a look at the picture of s traditional bedroom above as an example. The walls of this room get the color from SW6191 Contented paint by Sherwin Williams.
The thing that we love from this interior design is not merely about the sage green shade. It is also about other details chosen as its pair.
The first is the tan color of the headboard, bench, and chairs on the sofa. A neutral tone like this looks well together with the sage green.
Other than that, we also like the addition of gold accents in the room. It adds a glamor touch to the interior.
13. Sage Green for Calm Bathroom Atmosphere
Is it possible to use sage green in your bathroom design? Why not?
Doing so can give your bathroom a calm atmosphere. It will feel like you have your own serene spa facility right in your house.
For a maximum calming effect, we suggest using the sage green tone on the bathroom walls since it is the most dominant part of every room. For example, you can see the guest bathroom design above in which sage green is paired with wooden color to create a relaxing feel.
14. Dining Room with Sage Green Walls and Wood Furniture
This dining room design also shows the combination of sage green walls and wood. It seems that this combo is quite popular.
It also seems that wood colors are another option that looks good together with the green shade. The reason is possible because of the forest-like color scheme that brings a peaceful and relaxing sensation to the spectators.
15. Elegant Sage Green Sunroom Addition for Red Brick House
If you have a red brick house and an empty space left in your land, you should consider adding a sage green sunroom to the design. If you already have an uncovered patio, you can modify it to become a sunroom too.
There are a lot of reasons why you should do so. Since we are talking about sage green tone for home design here, of course, the related reason is that the hue is highly compatible with the natural color of red brick material.
The combination of both can give a beauty boost to the exterior design while, at the same time, you get an interior-like function.
Take a look at the picture. This beautiful sage green sunroom does not only provide an extra living space that is enjoyable to use in any season. It also provides an alternative place for eating.
16. Sage Green, Tosca, and Lime Green Color Scheme for an Inspiring and Energizing Home Office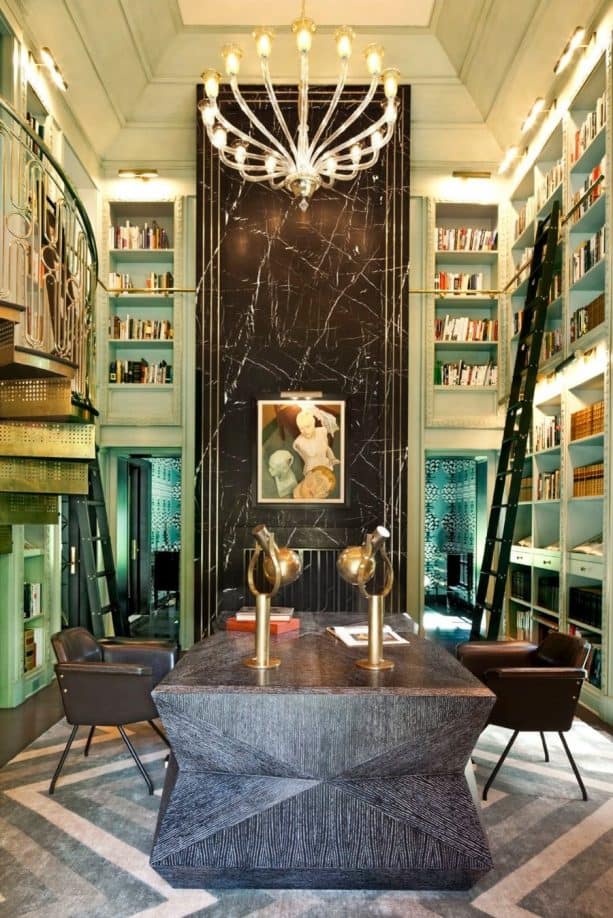 Sage green can also be an excellent option to color your home office walls. The calming sensation can refresh your mind to get inspiration to finish your job at home.
If you do not want everything in the home office design to look too calm, you can add some other colors for creating an energizing feel.
The picture above is a really good example that we found. It has Sherwin Williams Rainwashed SW6211 as the wall color.
Other than that, the color scheme is also completed with lime green and Tosca color. These are the ones that bring energy to the home office interior because of the refreshing look they have.
17. Cozy Library with Custom Sage Green Open Bookshelves
The versatility of sage green tone for home design is really on another level. The hue is just suitable to use everywhere in the house.
This time let us talk about the home library. The relaxing tone of sage green is just perfect for building a good reading environment in your house. It can help your eyes to relax a bit when you feel tired while reading your favorite books.
We found a charming example of a sage green home library. You can see that most of the interior is in sage tone, which is just stunning.
From this design, we also found out that adding black accents to a sage interior can create a fabulous look too. The black color is bold, and the sage is soft and calming. Both of them contrast to one another but can be paired nicely.
18. Closing
This post was really exciting to write. From it, we knew that sage green is an awesome color that can become a charm in both exterior and interior home design because of the calming, relaxing, peaceful, and refreshing atmosphere it can build.
Each picture that we shared above really proves that the tone is suitable for any part of the house. A versatile character like this is not always found in any other color. From it, we knew why this green share is getting popular recently.
What do you think about sage green house design? Do you want to use the color idea in your place of living?