There are so many colors that go with teal available right now.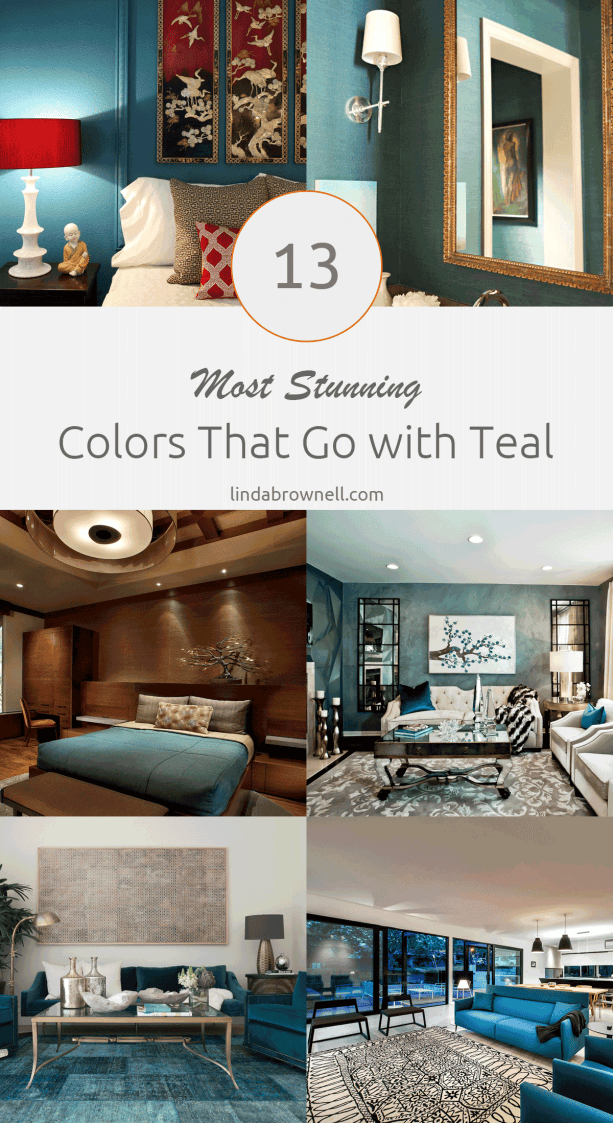 However, when you want to add teal in your home design, you can't just pick any random color as the pairing for this tone since the result may not look as good as you hope it to be.
About that, it would be great if you know first about the choices of colors you can pair with teal. Of course, it also includes understanding about the visual result you will get if you match teal with a specific tone.
In this post, you will find information about the 13 most stunning colors that go with teal and the visual that each of the combinations will produce. The combos include:
Read further to find explanation and examples of all the combinations listed above.
1. Teal and Beige – Comfy and Trendy Look
The very first color in the list is beige. There are several reasons why this tone goes well with teal.
The first reason is that beige is a neutral color. This way it will never be a problem for you to pair it with teal. Besides, the pairing of beige and teal looks trendy.
If you choose to make beige the more dominant color for the design, it will become a perfect neutral tone for the teal details you use. Besides, this idea will make the teal details pop more prominently.
The second reason is that beige is a warm tone. It is evident that teal is a cool tone. This fact is the reason why adding beige to the room where there is also dominant teal color will add some warmth in there and make the interior feel cozy.
On the contrary, if the room has more warm tones including also the beige color, the addition of teal can create a balance. This way the room will not appear too hot.
Please take a look at the picture below as the example.
This contemporary living room design is an example of an interior with more warm tones, including also the beige hue that comes from the armchairs.
The existence of the teal sofa in this room does not only prove that teal can match beige amazingly. It also brings a rather small but quite strong cool atmosphere to balance the warmth of the room.
2. Teal and Black – Deep Elegant Look
The next most stunning color you can match with teal is black. Specifically, this combo creates a deep, elegant look. A fashionable look can also be the result of this combination. However, the elegance is more prominent.
When using the combination of black and teal in your interior, you need to realize that both colors are dark. It would be great if you think of some ways to avoid the room from getting too dark that it is very uncomfortable for you to be inside it.
In this case, the first thing you can count on to is lighting, both artificial and natural. Other than light, choosing the right items with the right hues to place in the room is an excellent decision too.
It will be easier to explain if you check out the picture of a contemporary dining and kitchen area below.
Both black and teal colors dominated the area in a balanced way. Although so, you can see from the pic, it can't avoid the fact that the room looks quite dark.
However, you can also see there is a rather large window on one side allowing natural sunlight to enter the room and adjust the brightness. Besides, the white backsplash, countertops, and dining table also play an important role related to the room's brightness level.
The look of your black and teal interior will be different if you add white as another dominant color. Please take a look at this following picture as the comparison.
Other than teal and black, this room also has dominant white color. This color addition is the best way to erase the dark atmosphere from the first color combination.
The best thing about adding white tone in the interior is not only about adjusting brightness. It is also about the fact that white can make teal and black more stunning and fashionable.
3. Teal and Brown – Comfy and Elegant Look
If you want to create an elegant look, but at the same time you also want your interior to look comfortable, the color you should pair with teal is brown, especially the ones with darker shades.
It is not a secret anymore that brown is the perfect color to create comfy and cozy interior.
The dark shades of brown even have a quite high level of elegance. With these facts in mind, if you want the comfy atmosphere to be stronger, choosing brown as the more dominant tone than teal is recommended.
The example of this idea exists in the contemporary bedroom picture below.
It is undeniable that the brown and teal combo chosen for this room is perfect. The place has a strong natural brown color of the wood. Even the accent wall behind the bed also looks like wooden wall although it is possibly wallpaper.
A soothing atmosphere looks quite prominent in this bedroom. Even the room has a lot of darker brown shades it does not seem too dark.
Besides the fact that the room has adequate lighting system suitable for a resting place, it also has some other colors other than the dark brown shades.
Teal is the first color you can see here. The function of this color is not only as a compatible mate for brown. It is something that gives a calm, relaxed touch in the room making it an even better place for sleeping.
Cream is another color you can see on the ceiling and walls of the room. When you choose to pair dark brown with teal, you can consider adding another compatible color like this to avoid the place from looking too dark.
4. Teal and Cobalt Blue – Beautiful and Relaxing Feel
Combining teal with the right color in your interior can also result in a beautiful and relaxing feel. The recommended color mate here is none other but cobalt blue.
The most important reason why cobalt blue and teal are suitable for one another is that both of them belong to the blue category.
Another reason is that the undertones of both colors are also similar.
The last but not least is that when you pair both colors together, you will get a gorgeous look in your home design.
Check out this following picture if you want to see the proof.
The fact that this bedroom has dominant grey color from the walls and bed and golden wood tone from the flooring and some furniture pieces makes it looks quite ordinary.
This room still looks pleasant and uncomplicated, but it just does not have enough beauty point in it.
The addition of teal color on the bed and cobalt blue tone on the flooring seems to fix everything since they significantly enhance the room beauty. Besides, the calm look of the two hues also makes the bedroom looks more relaxing for taking a rest.
5. Teal and Cream – Soft yet Striking Look
The combination of teal and cream is another choice to consider. When you pair the two colors correctly, especially when you can choose the right shade of teal to combine with cream, you can even create a striking look.
Both of cream and teal are suitable to call as soft tones. If that is so, how can they create a striking look together then?
For you to know there is a trick to do it. It is by adding more teal in the area instead more cream in there.
For some people, a cream tone may look quite ordinary, but when it is pair with teal, the result is just fantastic.
Having teal as the background is great too. This background will make the cream color to strike more smoothly.
As you may already know, the cream is a smooth and soft neutral tone. Therefore, even the color combo is rather bold; it will still have a softened look, which is just perfect especially for enhancing the room coziness.
Take a look at an example below as the example.
The teal tone in this room does not come only from the velvet pillows on the sofa. As you can see, the room also has teal walls.
For you to know, this is neither a painted wall nor wallpaper. The wall is plaster in the teal color. It is reasonable then if the wall has a kind of textured-look.
There are some different items in cream color in this living room. However, the tufted sofa seems to be the catchiest one.
Placing this sofa against the teal wall is an excellent decision. The color of the wall makes the couch looks striking and surprisingly more elegant.
6. Teal and Gold – Sophisticated and Warm Look
Do you want to try something extraordinary?
If so, try to combine teal and gold colors. This combination will give you a sophisticated look with also a warm touch while at the same time also creates a beautiful look.
Of course, you should not also forget that gold is a color that brings a classic luxury look. This way, the combination can be the right one to pick when you want to add a luxury touch to your home interior.
Another thing you need to remember when using teal in home design is that it is a versatile tone. It means you can literary use it in any part of your house if you want to.
The example is available below.
Here, the designer uses the combination of teal and gold in a bathroom area. As you can see the wall in this room is a teal grasscloth, and there is a large wall mirror in the golden frame.
Both of the colors are complementary. Especially for the gold touch from the mirror, it adds a bit of warmth in the area while it is evident that the dominant teal color makes the bathroom rather cold.
There are also some white accents exist in the room. These accents add a fashionable touch in there.
7. Teal and Grey – Delightful Look
For a delightful look, you can try to pair teal with grey color in any shade that you like. Unless you choose greige as the teal color mate, both colors tend to have a cool look.
This look does not only result in something pleasant to see but also a peaceful atmosphere that is suitable for any room in your house.
Although this color combination is suitable for any room, it is a much better choice for living room and bedroom.
The example you can see below is a living room with teal and grey color scheme.
This room has more portion of grey color. This color exists on the wall, floor to ceiling fireplace, and also sofas.
Although there are more living room elements with grey tones, it doesn't mean that the teal color sinks in the interior design.
On the contrary, the teal tone pops prominently here because the designer uses it to color the accent wall in the living area.
From this picture example, there are several colors found to be compatible for teal too and l, of course, you shouldn't miss them. They include the brown color of wood and gold.
8. Teal and Mustard for an Aesthetic and Energizing Look
Another great combination you should take into consideration of teal and mustard. The best thing about this combo is not only because of the aesthetic look it produces. It is also about the fact that mustard yellow can give your interior an injection of energy.
Well, you can pair teal with any yellow shades to get an energizing look. However, when the one you choose is mustard, it is highly compatible with teal.
Both teal and mustard have a softened characteristic. These colors create a calming look at the same time.
If being asked about where you can use this color combo, the versatility of teal makes the combination suitable to use in any room. Although so, you should consider the energizing characteristic of mustard.
Based on this, it would be best to use the combo in a place where you like to recharge your body and mind the most. This room could be a bedroom, bathroom, dining room, or any other choice of yours.
For examples, you can take a look at the two pictures of a bedroom with teal and mustard combination below.
In this first example, teal exists in the room's accent wall.
Although it gives the room a bit of darkness, it doesn't make it looks too dark since the room also has other bright colors including mustard and white to enhance the brightness.
Besides, teal is also a right color for a bedroom because it brings cool, calm, and relaxing feel.
This other example is more suitable to pick when you do not want to have too much teal color in your bedroom.
In this case, a nice-looking headboard would be an excellent choice. It is good to pair with mustard pillows or blanket that will visually boost your energy.
9. Teal and Pink for Bold and Beautiful Look
If you are interested in something bold but beautiful at the same time, you can just combine teal with pink. A combination like this is an excellent one for kids and teenagers, particularly the female ones.
There are no specific rules in combining the two tones. However, you can try to pay more attention to some details if you want an excellent result.
Since beautiful visual is something you want to obtain here, it would be better if you make pink to have more portion than teal in the room design. Besides, you should also choose a bold idea to make the pink tone pops.
As an example, please take a look at the picture of a pink and teal kid's room below.
Besides the use of pink and teal colors here, white is another dominant color in this bedroom.
The fact is that the use of white color in this room is excellent since it makes the pink color of the wall and the teal color of the armchairs more stunning.
Although pink is not the most dominant color in this room, it is still more prominent than the teal tone. The portion and the boldness of the pink make it like that.
If you are looking for an inspiration about which pink tone to pair with teal, the one used in the picture above is a good example. For you to know it is Sherwin William Hot SW 6843.
For a sweeter look, choose a design like the one shown in the picture below.
The designer here chooses a patterned design with the combination of white and pink colors instead of something bolder like the one shown in the example earlier.
Here, the idea exists not only in the diamond-patterned wallpaper but also in the bed cover placed on the bed adorned with teal tufted velvet headboard.
10. Teal and Red for a Bold Transitional Look
When combining teal and pink will result in a bold yet beautiful look, you will get a different outcome when you replace pink with red. A bold transitional look is a result meant here.
Because of this, people who love a traditional look but at the same time also want a bit of modern touch in their home design often choose this combo. Something like this is available in the picture below.
You can see another great example below.
Yes, teal and red combination is an option to consider when it comes to Asian interior design. The teal color accentuates the red tone appropriately while at the same time calming the atmosphere.
While there is no exact information about what wall paint used in this bedroom, you need to know that it looks very similar to Sherwin Williams Tempo Teal. This can be another inspirational choice of teal tone for your interior.
11. Teal and Rust Color for an Autumn Look
You can bring an autumn look in your home interior when you pair teal and rust color. The color combination does not merely show a contrast look. It also represents the warm tones you can see in the cold and windy fall season.
There are so many ways you can do to bring the color combination in your home. For example, if you already have a teal wall, you can just add rust color furniture as the mate.
An idea like this also exists in the picture example below.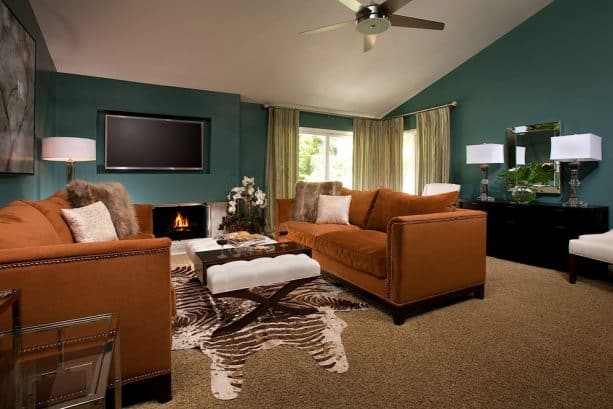 The combination you can see from this picture is between a teal wall and rust sofas. If you are curious about the wall color, it is one of the teal tones of Dunn Edwards.
If the one you have is teal furniture pieces, you just need to combine them with rust color element. In this case, you should not always go significant, such as by painting your wall in a rust tone.
You can choose something on a smaller scale, such as pairing your teal furniture with rust carpet as shown in the picture below.
If you want to use teal to bring an autumn atmosphere in your house in a different way other than the ones mentioned before, you can try to pair it with copper. Teal and copper accents also work well together.
12. Teal and Taupe for a Soothing Atmosphere
To get a soothing atmosphere, the right color you should pair with teal is none other but taupe. Taupe itself is another neutral tone that is not hard to match with teal. Besides, both of them also has soft characteristic inside as a compatible value.
Teal looks excellent when paired with taupe. Although so, this color doesn't disturb the neutral beauty look of taupe.
As an example, you can check out the following picture of a transitional living room.
From this picture also you can find out that a chic look can exist too when you pair teal and taupe in a place. While the taupe colors of the furniture pieces and flooring look quite right, the taupe wall art tames the boldness and change the visual into a more soothing look.
13. Teal and White for Bright Fashionable Look
The last but not least most stunning color to pair with teal is white. In a more specific explanation, this combo will show a bright fashionable look that you will love.
Teal color will pop even better when combined with white. In some cases, the white color can even teal looks lighter than it is.
This color combination is also great because you can use it in any room in your house. It looks stunning for kitchen area as exemplified in the pic below.
The teal stools in this kitchen add a confident burst of color in the kitchen area. With the white cabinets in the background, the teal color of the seats pops excellently. Of course, a bright fashionable look exists here too.
Moreover, the material of the teal stools is leather, which has extra fashion value than other materials.
Here is another example.
In this example, the combo between white and teal is in the bedroom area. Instead of using white as the background color, the designer chooses teal as the background color.
While the design still serves a fashionable look, the choice of teal as the color of the wall is just proper since it enhances the calm atmosphere in the sleeping area.
From all of the 13 most stunning colors that go well with teal, which one is your favorite?
No matter what your choice is, the thing you need to remember is that teal is a versatile color.
That is why when you can also consider the other colors to pair with it and the visual effect they produce to decide the right color scheme for your interior.