Colors that go with navy blue are not hard to find. The primary reason is that this shade of blue, surprisingly, belongs to the neutral category. It is not warm, it is not cold, and it makes such an amazing and versatile background when used in a large portion.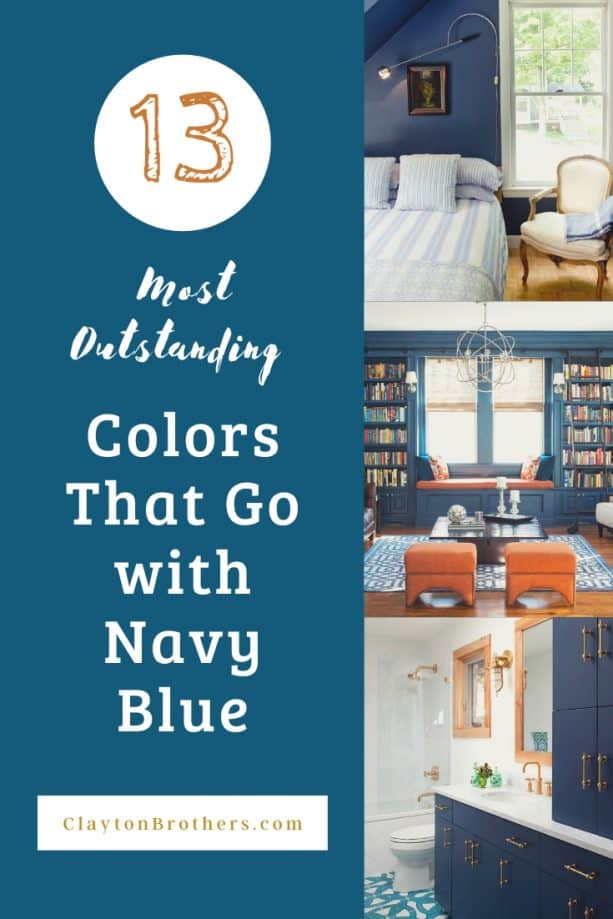 Although so, do you know that several colors look better than any other choices when paired with navy blue? The visual also looks nicer when you apply the combination in the right room.
In this post, you will find 13 most outstanding colors that go well with navy blue. Besides, you will get information about where to apply each combination in your house too.
The first color that stands out when you pair it with navy blue is beige.
As you may already know, navy blue is a dark tone that can create a cozy atmosphere in any interior. Although so, when it stands alone, it can look too bold and cold.
In this case, adding a beige color in the room can fix everything. This tone adds warmth in there as well as making sure that the blue shade does not look too bold.
Bedroom
The fact that the combination between navy blue and beige can produce a cozy as well as warm atmosphere makes it a highly suitable choice for a bedroom.
The dark characteristic of the blue shade can soothe your eyes whenever you want to go to sleep. On the other hand, the beige color is the one that can give you a more comfortable visual.
All these advantages work in any bedroom in your house, including the ones you design for the kids. Take a look at the picture above as an example.
This room has quite a lot of sources of navy blue tone. Those include the wall, stepping stool, rug, and ottoman. Even the beautiful aircraft-themed wall prints also have some touches of the blue shade.
On the other hand, there are primarily two sources of beige color here. Those are the floor and the bed.
An inspiration you can get from this picture is the addition of a third color in the scheme that can add extra brightness to the room. In this case, the tone meant is the white paint applied on both of the wall and ceiling.
Wall Paints: Hale Navy HC-154 by Benjamin Moore, White Heron OC-57 by Benjamin Moore
Wall Prints: Aircraft Collection by Jeffrey Milstein
Family Room
The color scheme is also an excellent choice for a family room. With the cozy and warm look, it can be a better place for gathering and spending time with your loved ones.
Please take a look at the picture above as an example. This family room looks comfortable because of the navy blue and beige combo.
The beige color takes over quite a lot of space in the family room since the designer uses this on the walls and the fluffy rug on the Brazilian walnut floor. Besides, there are also some additions that make the room warmer. These include the coffee table, sofa cushions, and tan leather chairs.
Another detail that makes the room perfect for a gathering is the large glass windows. They allow everyone to see the beautiful green views outside the room while having a good time together.
Fireplace: Slayton Series by Kozy Heat Fireplaces
Rug: Room & Board
Sofa: Room & Board
Wall: Simply White OC-117 by Benjamin Moore
When it comes to the combination between navy blue and black, many people think that these colors are not well together. The primary reason is that both are dark neutral tones that could make any room look moody.
The fact that they do not know is that this dark color combination can create such an elegant look. Besides, this combo can also result in a deep yet relaxing look. It makes the scheme suitable for a resting place like a bedroom.
Living Room
The living design we can see above as an example does not only contain black and navy blue colors. There is also white hue in there. It makes the room looks brighter than it is.
The use of both black and navy blue tones here clearly makes the room look elegant. The elegance sparks clearly from the fireplace, the velvet sofa, the table lamps, and even the coffee table.
The next color combination is not only standing out but also unique. It is none other but the combo between navy blue and one of the new favorite metal tones, brass.
It is true that navy blue tends to be a cool color while brass is a warm tone. However, both of them are opposite colors in the standard color wheel. It means they are compatible with one another entirely.
The result of this mix is a glamorous visual in your interior design. However, this is not a suitable choice to apply in all rooms in your house since some places can look odd or too much with the combo, primarily when you use the wrong ratio between the blue shade and the metal color.
Bathroom
One of the best rooms in your house to apply the navy and brass color scheme so that you can build a glamorous visual is in the bathroom. And the most suitable way to use the combo is in the cabinet design as the one you can see in the pic above.
Here, the navy blue tone is more dominating since the designer applies it on all of the cabinet exterior surfaces. On the other hand, the brass tone exists in the cabinet hardware.
Although the portion of brass tone used here is quite small, it is enough to add some glam in the room. If you agree with the idea, you can make the design even better by using the same metal color for other fixtures in the bathroom.
Cabinet Paint: Gentleman's Grey 2062-20 by Benjamin Moore
Cabinet Hardware: Push Pull Open Close, Inc.
Shower Fixtures: Purist Collection by Kohler
Powder Room
Other than in the bathroom, you can also use the same color idea in the powder room. With the two distinctive tones, it will be easier for you to create some point of interest in the small room.
However, since the room is usually small, so there are not many cabinets in there, you need to think of another way to use the color combination in the place while at the same time making a statement in there too.
As an example, you can paint half of the room with navy blue and the other half with white. Next, you can apply the brass tone directly on the blue wall, such as by installing brass wall sconces or hanging a wall mirror with brass frame.
If you place a vanity in the powder room and this furniture has a drawer or cabinet feature, do not forget to use brass pull to create some design compatibility and consistency.
Sconces: Visual Comfort BBL 2080G-S with Gild Finish by Circa Lighting
Wall: Blue Note 2129-30 by Benjamin Moore
For a refreshing look, you can combine the navy blue tone with green. When paired together like this, both of them work as cool tones and create a pleasant view in your home interior.
Bedroom
The color combination of green and navy blue can be an excellent choice to pick for your bedroom area. Although so, you need to be very careful in using the green tone.
The reason is that green is a color that is not only refreshing but can also be energizing. You can see this visual better in bright green shades or the ones that have a yellow undertone in them.
For a sleeping area, soft or pastel green in an excellent choice since it has a soothing value. Although so, it does not mean that you can only choose these green shades for the bedroom.
If you want to choose some energizing shade for the room, such as the citron green color you see in the picture above, the use of navy blue tone offers a solution. This dark shade calms down the green hue so it won't loom too energizing for a room designed for resting.
Bedding: custom made with fabrics from Robert Allen
Wall: Springtime SW 6708 by Sherwin Williams
Living Room
A different fact appears when you use the combo in the living room. In this place, it is okay if the refreshing and energizing visual of green becomes visible.
If you do not want the green shade to dominate the room so that the place will look too refreshing, you can use more portion of navy blue in there since this color also works as a neutral hue.
Another solution you can do is adding another dark neutral tone in the room. The example of this is visible in the black leather ottomans used in the living room above.
Drapes and Pillowcases: custom-made with fabric from Kristin Drohan Collection
Ottomans: Raegan Storage Ottoman by Kristin Drohan Collection
Sofas: custom-made with fabric from Kristin Drohan Collection
The combination between blue and light grey is best for creating not only a relaxing but also a welcoming interior. This look makes the combo is perfect for a gathering place like a dining room and living room.
Dining Room
For the dining room, even if you decide to use the combo, it would be best if you keep the design bright by using more portion of light grey tone. The reason is none other but extra comfort in enjoying every meal with the ones you love.
There is a trick you can do to make it looks brighter if by any chance the dining room floor has a quite dark color, like the dark hardwood floor in the picture example above. It is by placing an area rug in a light grey tone as done by the designer in the case above.
Living Room
As for the living room, you can still take advantage of the relaxing and welcoming visual produced by the color combination. Although so, we suggest you use more navy blue tones in the room since it promotes better coziness in there.
Pillow Fabrics: Duralee
Tanzania by Peter Fasano
Rug: Trimaran Navy Rug by Amira Rugs
Wallpaper: Nobilis
There are two worries that people have in mind when they think about using navy blue in their interior design.
The first one is that the tone will make their place look too dark. The second one is that the blue shade will make their interior looks cold.
If you also have those thoughts in mind, the combination between navy blue and orange is the one you need. This combo will bring a balanced and vibrant look in your place.
Bedroom
The fact that orange and the navy blue combination can bring a vibrant look that is still balanced makes it an excellent selection for a bedroom.
The dark characteristic of the blue tone provides you something relaxing to see so there will be a better chance for you to get quality sleep. On the other hand, the orange color gives a vibrant touch so that your room will not look too dark.
This combination is suitable to pick for any bedroom. However, it would be much better if you select it for kids or teens room no matter whether you design it for a girl or a boy.
Bedding: Restoration Hardware Baby and Child
Bed Skirt: Restoration Hardware
Curtains: Fina Designs
Orange Pillows: Fina Designs
Orange Throws: west elm
Rug: Fina Designs
Walls: Hale Navy HC-154 by Benjamin Moore, White Sand OC-10 by Benjamin Moore
Living Room
The same advantages mentioned earlier are also obtainable when you use the blue and orange combination in the living room.
You can add some orange touches to make the room looks livelier if the navy blue tone dominates the place.
Chairs: 1030-C1 Laurie Chair by Precedent Furniture
Chandelier: Beau Orb Chandelier by Balard Designs
Coffee Table: Nassau by Williams Sonoma
Ottomans: One Kings Lane with custom orange upholstery
Rug: Patterson Flynn Martin
Sofa: Abbot Sofa by Jayson Home
Wall: Shang Extra Fine Sisal Grasscloth Wallpaper in Wedgewood Blue Color by Thibaut
Woodwork: Newburyport Blue HC-155 by Benjamin Moore
The addition of pink tone in a room with navy blue color does not only create a fun and a girly touch in the interior. The combination also creates a color scheme that is glamorous, especially when the pink shade chosen is rather dark.
Bedroom
The existence of pink color in the combination makes the design suitable for a private room designed especially for girls or even a woman. Apparently, in this case, the bedroom is the most suitable one.
To avoid some bold look that can reduce the ease in getting quality sleep, choosing a soothing pink tone as the pairing for the navy blue color is an excellent idea you can try. The example of this is available in the picture.
Bed: Lucy and Company
Side Table: Lucy and Company
Wallpaper: Lucy and Company
Living Room
You can use the navy blue and pink combo not only in a private place like the female bedroom mentioned above. If you want to, you can also use the mix in a shared place like a living room.
The existence of both colors in a shared area like this makes the interior gets a masculine and feminine touch at the same time. The navy blue tone represents the manliness while the pink hue depicts the feminine feel.
Chair: Dialogue Lounge Chair by HBF upholstered with pink Ultrasuede by Knoll
Floor Lamp: CB2 Modern Furniture and Home Decor
Walls: Old Navy 2063-10 by Benjamin Moore , Frostine AF-2 by Benjamin Moore
White Sofa: Natuzzi Italia
Fun look is not only obtainable by combining a navy blue and pink as explained earlier. You can also get the same effect differently by pairing the blue shade with red.
Bedroom
The fun look resulted from the color combination of red and navy blue is also a suitable choice for a bedroom area. The effect works especially when the room is for your kid.
The pairing between the two colors is genderless actually. However, the red tone, which is also the symbol of bravery, makes it more suitable for boys and their adventurous soul.
Barrel Side table: Home Goods
Ceiling: Admiral Blue 2065-10 by Benjamin Moore
Wall: Whipple Blue HC-152 by Benjamin Moore
Rug: custom made by DAVIS & DAVIS
Living Room
If you want to use the color pairing in a more public area, you can use it in the living room or dining room. The way to use the color idea is also various.
As an example, you can hand some wall arts with both primary colors in it. Other than that, you can also use two different seat types with two colors in there as done in the example.
From so many colors you can pair with navy blue, any shades of blue are the ones you can pick effortlessly. The reason is none other but compatibility.
This time, the idea we are about to share to you is quite specific. It is the pairing between navy blue and soft blue.
Bedroom
The.combination between navy and soft blue is excellent for the bedroom area. There are two primary reasons why we can say something like this.
The navy blue tone is quite dark, so it is perfect for relaxing your eyes whenever you are about to go to sleep. This fact is also a reason why the color is ideal for the walls. Not to forget that this blue shade looks quite elegant too.
On the other hand, the soft blue tone creates a calming effect, which you also need for good quality sleep. Something like this is suitable for a bedroom item that you can see directly from the bed like a chair or the one that you can touch like bedding set.
Bed Linens: Bellora, Garnet Hill
Chair: Portland Architectural Salvage
Light Fixture: The Lamp Repair Shop
Trim and Ceiling: Super White PM-1 by Benjamin Moore
Wall: Hale Navy HC-154 by Benjamin Moore
The next color you can pair with navy blue is the most neutral tone. It is none other but white.
When you match the blue shade with white, you will obtain a simple look. White color will also make navy blue pops even better so the elegance will look more prominent in the interior. In other words, white is a highlighting color for navy blue.
The best thing of all, this color idea works in almost all the rooms in your house. Although so, it looks most excellent in the room we list in the following.
Bathroom
Navy blue and white is the pairing that works excellently in the bathroom.
As a suggestion, when you want to use this combo, it would be best if you make white as the dominant color. This idea will make the clean and bright impression, which is highly suitable for bathroom, more visible.
If by any chance you already have a white bathroom, you can add a touch of navy blue color to create a focal point that will arrest most attention in there. As an example, you can take a look at the picture.
There is a bathtub that has navy blue color. The tub is the focal point in the room because it does not only have fabulous clawfoot design, but it also has a stunning blue color.
Wallpaper: Brunschwig & Fils Bird and Thistle Blue Wallpaper
Tub paint: Drawing Room Blue by Farrow & Ball
Bedroom
Adding some touches of navy blue in your white bedroom can also be a nice project to try. This idea will bring some beautiful yet powerful details that will make your bedroom looks fantastic.
Dining Room
Navy blue is also a perfect color to create a backdrop in your dining room, no matter whether it is just for an accent wall or all sides of the wall.
When you pair the color with white, you will see not only an elegant combination but also an inviting one. Something like this will give you quality meal times.
Chairs: Martine Collection from Restoration Hardware
Wall: Ink Blot JLC316 by Jeff Lewis
The next color you can pair nicely with navy blue is any wood color. The combo between the two will present you an elegant and rich look that is perfect for both bedroom and living room.
Check out the pictures below as examples.
Bedroom
Both of the navy blue and wood colors used in this bedroom are rather dark. This fact is the one that creates a rich yet relaxing visual in this bedroom design.
To avoid the room from looking too dark, the addition of yellow bed-end ottoman is merely excellent. Yellow or any other black tones can add something vibrant to the place and avoid some dull look.
Living Room
For the living room, the combination between navy blue and wood color can create not only elegant and rich look but also an inviting atmosphere. This feel can make the room more comfortable as a place for gathering or welcoming guests.
Sometimes, you do not always have to add wood furniture in a living room with navy domination. Adding a small portion of wood tone can be enough as long as the item can arrest most attention in there.
The example is available in the picture above. Here, the living room has navy walls and the covering of the fireplace hearth is wood.
Wall: Nordic Blue – Colour 23 by Grand Illusions
Another color you can also match with navy blue is yellow. This idea will not only produce a contrast look because one color included is dark and another one is bright. It is also something that will create a fun visual in your interior.
Bedroom
Adding a yellow tone in a kid or teen bedroom that has a lot of navy blue color is a terrific idea. The brightness of yellow can reduce the possibly stiff visual cause by the dark shade of blue.
In applying this idea, you do not have to go big, such as by adding yellow furniture in the bedroom. You can do something simple but effective, such as by throwing a yellow blanket in a chair you place in the room.
Living Room
Another room where you can apply the navy and yellow combination is in the living room. The way to use it should not always be navy on the walls and yellow as the accents of the place.
Using navy blue color for the couch and yellow for the drapes in the living room can also be fantastic. The bright yellow background can pop the beauty of the blue shade even better.
Coffee Table: Vintage Scout Interior
Drapes: custom made by Vintage Scout Interior
Floor Lamp: CB2 Modern Furniture and Home Decor
Sectional: Vintage Scout Interior
Rug: west elm
Table Lamp: Vintage Scout Interior
Wall: Ballet White OC-9 by Benjamin Moore
The last but not least color you can pair with navy blue is beige or soft blue or even both of them. This choice is perfect if you want to create a cozy look in your house.
Living Room
From so many rooms available in the house, this color scheme idea is the best to apply in a living room where people usually gather in your home.
There are so many ways you can do to apply this idea in the room. The example is the one you can see in the picture, in which the living room has navy blue walls and cabinets, soft blue sofa with beige cushions, and beige floor.
Wall: Ionian Sea Linen – Indigo LWP60703W by Ralph Lauren
14. BONUS!
And here is a bonus to prove that some colors are just excellent to pair with navy blue. It is the image of a bedroom that has an accent wall with an interesting four-color design.
One of the colors is navy blue. The others are the hues that look good together with the blue shade. They include grey, soft blue, and yellow.
Lamps: Hanging Loft Lamp with Edison Bulb by Retro Steam Works
Rug: Armadillo&Co
See, there are so many colors that go with navy blue, right? As long as you know about how to find the perfect match for the blue shade and also about where to use the combination, we are sure that you will face no problem in using navy in your house.