Gray is one of the most trending interior colors in the last few years. If being asked about the visual that it can give to your room, the answer would be ultra-modern and chic.
Gray is also a perfect color for any contemporary interior. Besides, it is also a versatile color that makes it quite easy for you to pair it with any other tones of your choice. FYI, one of the most popular combinations is gray and yellow.
As you may already know, yellow is a mood-booster that can bring a cheerful atmosphere in your interior. It also has a confident impression as well as a refreshing feeling in it. When paired with gray, the visual can be a bit different but is still in a good way.
Gray has a calming effect that can tone down the powerful appearance of yellow. On the other hand, yellow is the color that can give grey a stronger look as well as personality. In other words, both of them are meant for each other.
If right now you want to decorate your house by using the combination of the two tones, in this post, we will mainly discuss yellow and gray wall decor ideas. We hope that the ideas we are about to share here will inspire you to decorate your interior wall with the color theme.
As additional information, we will also include some recommended items that will be suitable to include in the wall design. Read further to know about all the things.
1. Functional and Decorative Wall Shelves
Wall paint: Fog (517-3) by Porter Paint
Wallpaper: Modern Baby Trellis by York Wall Coverings
Floating shelves: Slice Grey Wall-Mounted Storage Shelf by CB2
When you try to create a wall decor with the yellow and gray color theme, the things that you can include in it is not limited only in decorations. If you want to, you can also add functional value.
As an example, you can take a look at the traditional nursery above. The color theme used in the entire room contains the combination between gray and yellow. FYI, these tones are popular when it comes to nursery interior design topic because it is gender-neutral.
If you want to focus more on the wall decor, you can see that it mainly contains the combination between a solid gray wall and yellow and white wallpaper. Other than those, you can also see that there are two dark grey floating shelves included in the design too.
If you want to see it from the decorative point of view, shelves like these are excellent items because you can place some decorations on them, just like what you see in the picture. It gets even better because they have drawers that you can use to store items too.
2. Yellow Art on Grey Wall
Wall art: Harmonia IV by Sia Aryai
Another easy way to create the wall decor with a yellow and gray theme is by placing a yellow artwork on a gray wall. You can also do something on the contrary. However, if you want a more stunning result, placing something yellow on grey will be better because the sunny color will pop.
As an example, you can take a look at the eclectic open kitchen and dining room above. It has a grey wall that looks like concrete or something textured. Unfortunately, we cannot find any information about the material or paint.
As you can see, the wall design looks so simple with only a grey tone in it. As a decoration, the designer chose a stunning yellow wall art placed above a natural wood console table.
The bright color of this wall art creates a contrasting look in the wall design. Since the grey tone is more dominating here, the yellow hue is not overpowering at all.
About the color scheme of the room generally, the addition of the yellow art is another excellence. The reason is that it looks coordinating with the stools and yellow vase in the cooking area.
3. Yellow Statement Decoration
Wall Decoration: Large Yellow Juju Hat by Accent Touch
If you have a grey wall in your home interior design, you can count on not only a yellow wall art to create a stunning look. You can also use something else like a statement decoration in a yellow tone too.
The picture above shows a side of an eclectic bedroom where there is a fireplace in between two white cupboards. Above it, there is a yellow juju hat.
FYI, a juju hat is a headpiece worn by the royal dancers of Bamileke people during a tribal ceremony. It is not just a regular accessory because it symbolizes prosperity.
Right now, juju hat often becomes a part of home interior design too. The function is clearly as a decoration.
Commonly, people hang it on the wall, as shown in the pic. The unique appearance, as well as color variety, makes it a suitable piece for creating a statement in any wall decor.
4. Accentuating Wallpaper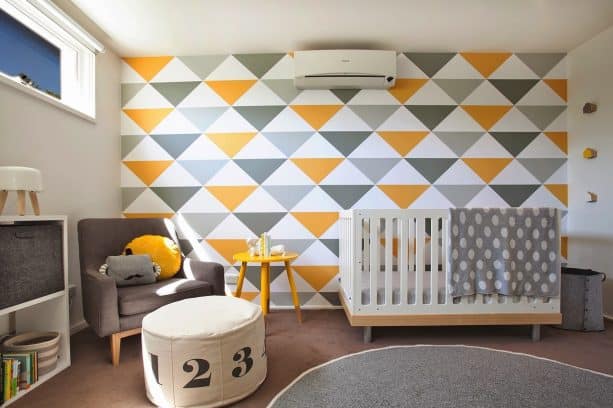 Wallpaper: Removable Wallpaper with Large Triangle Pattern by Livette's Wallpaper
This one is another idea that is quite easy for you to do at home. It is to create a fantastic wall decor in yellow and gray color only by using accentuating wallpaper.
The meaning is that you will use the wallpaper only to cover a wall side in the room. Since you want to create an accentuating effect to arrest attention here, please be careful in choosing the wall covering.
If you need an example, the triangle wallpaper you see in the picture above is an interesting one. In the pic, the wall covering is used in a gender-neutral nursery room. With a visual like this, you can also use it in another place, such as a kid's or teen's bedroom.
Another interesting thing that you need to know about the triangle wallpaper is that it is a peel-and-stick one. In other words, it is the option that you can easily attach to the wall and remove whenever you want to. A product like this might be suitable to pick for a DIY wall decor project.
5. Quotes or Motivational Sayings
Quote decoration: Believe There Is Good in the World Wall Decals by Wall Sayings Vinyl Letterings
If the gray and yellow wall decor that you want to create is meant for a room in which some good motivations are needed every day, such as in teen's bedroom, a study room, or a home office, then you must include some quotes or motivational sayings in the design.
An accessory like this is available in so many forms right now. One of the examples is decal stickers. This item is very easy to use because you just need to peel and stick it wherever you want.
If you do not want to attach it directly on the wall because you worry that it will leave some adhesive stain, you can stick it on another surface first, such as wood. When done, you can hang it on the wall or place it on a wall shelf together with other decorations, as done in the picture above.
6. Two-Toned Wall
Sometimes, you do not need to use any decorations at all for creating the gray and yellow decor on the wall. In this case, you can count on two different colors to make the walls in your home interior attractive.
There are so many ways you can do to create something like this. For example, you can use two different materials, each with gray and yellow tones. Another way to do it is by using two wall paints to create a two-toned impression.
Take a look at the picture of a traditional bathroom above as an example. Here, the main focus of the wall decor is the application of two tones for creating an attractive look on the wall.
In the design, there are two different items used for creating a combination between gray and yellow. The first is carrara marble tile and the second is a custom yellow paint.
One thing that is interesting about the design is that the marble tile material on the wall creates texture. Something like this can avoid an unattractive look.
7. Yellow Wall Lighting on Gray Wall
Wall sconces: Roots Single Arm Sconce by Lighting For The Home with custom neon yellow shade
Wall lighting can also be another option for creating wall decor. Just like the shelves we have talked about at the beginning of this post, lamps are also functional decorations in this case. The reason is that it does not only make the room prettier but also brighter because of the light.
The example that we want to give to you at this point is the use of yellow wall lighting on a gray wall. For a particular design like this, the visual effect that you will get is pop on the commonly neutral-looking gray color.
However, if you want to, you can do an experiment b using grey wall lighting on a yellow wall instead because something like this can be interesting too. However, the look you will get can be a bit different. In this case, the grey color of the lamps can tame the brightness of yellow.
In the example above, we can see a pair of wall sconces with custom yellow shade. Together with some other yellow items in the room, they create a popping sensation that makes the interior more attractive and away from a gloomy look.
8. Yellow and Gray Panel Wall Art
Panel wall art: Paris Grey and Yellow Canvas Wall Art by Xinqi Art
You can also create an interesting wall decor by using panel wall art, as shown in the pic above. Usually, something like this looks more suitable to include in a contemporary or modern interior. However, depending on the design, you can also use it in any other room style if you want to.
The panel wall art usually consists of more than just one piece. In other words, people typically sell it in a set. As you can see in the picture example above, the panel wart consists of three coordinating pieces.
9. Handmade Decoration
Dreamcatcher: Yellow and Grey Macrame Dreamcatcher from Made by Mums
The last but not least idea to create a wall décor with gray and yellow colors is by adding some handmade decorations in the design. Here, you can choose to buy the items or create them on your own.
The best thing about handmade decoration is that every piece is unique, which means it usually has a difference from the others. Besides, there is always love in every handmade product.
The decoration that you can see in the picture is a large-size dreamcatcher with a grey and yellow theme. Something like this is suitable to include in the type of wall decor that we are talking about since the very beginning.
10. Other Items to Include in the Wall Decor
Other than the nine ideas above, we also have some examples of decorations that you can include in wall decor with the yellow and gray theme. We chose all the items in the list below randomly. The only reason is that we found that each of them has a unique and attractive appearance. More importantly, all of them are matching with the main topic of this post.
We did not include information about the price and availability of each item below because we know that those details may change at any time because of some reason. Therefore, if you are interested in one or more of the products, please check the details first.
Mustard Yellow Grey Canvas Wall Art from eBay
Where to buy: eBay
This one is a canvas wall art. It has an abstract swirl pattern with a combination of yellow and gray colors in the design.
Something like this may be different from a real painting made by a famous painter, which possibly cost you a very lot of money. However, it still has a beautiful look.
If being asked about where to put it, something like this would be perfect for your contemporary room style.
Square Yellow Foliage Wood Effects Panels by Wall26
Where to buy: Wall26
Here is another interesting art piece that we have found for you. It is a set consisting of two panels.
The main reason why we love this item from the very first sight is because of the natural wooden look. FYI, it is not from real wood. Instead, it is a canvas art with a wooden effect.
Something like this would be perfect to include in a rustic or farmhouse interior style.
Sun and Moon Wall Art Set of 2 by Eve Sand
Where to buy: Eve Sand
It seems that there are just so many interesting wall arts available at markets nowadays. So, here is another one that we think you will love.
It is a set of canvas wall art with two different prints included, one with a grey theme and the other with yellow. The ideas in the picture are about day and night.
It looks quite simple, but there where the beauty of this set it. With a look like this, we think that this canvas art is perfect for placing in a kid's or teen's bedroom
Yellow and Grey Kitchen Poster by Black Pelican
Where to buy: Etsy
If you need to decorate the wall of your kitchen or dining room, this one can be a good selection. It is not a canvas art but posters made on heavyweight quality papers that are usually used for museum needs.
One thing that you must remember when purchasing something like this is to check whether or not it comes with the frames. For this one, the creator only sells the prints with no frames included.
Mixor Component Wall Clock by Paladim
Where to buy: Paladim
We did not include any wall clock in the idea list above. However, you need to know that this item is another functional choice that you can use in creating the wall decor too.
An item that we think has a unique design is this two-toned wall clock. It has an unusual shape that makes it look attractive. An item like this is excellent for a contemporary room.
Lion Wall Clock by Trend Lab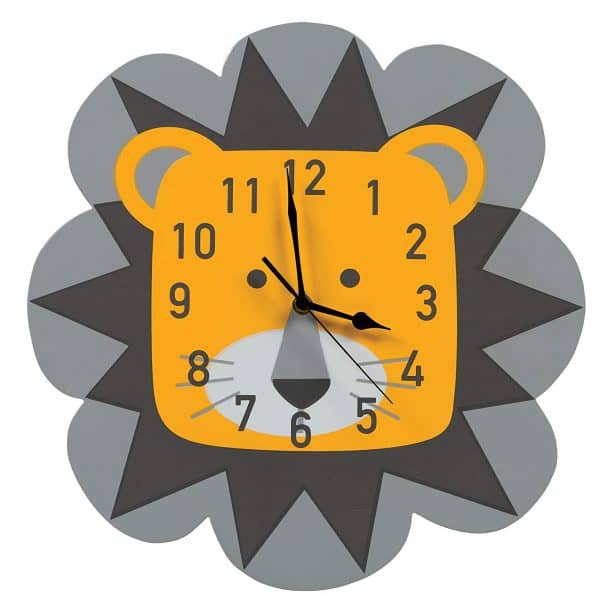 Where to buy: Trend Lab
If you want to use the wall decor with a gray and yellow combination in a kid's bedroom or a nursery room, this wall clock can be an excellent choice of decoration to choose from. It has the image of a yellow lion with a gray mane.
The cuteness in the design builds a suitable atmosphere for kids. Besides, the fact that it is a clock also gives a function that can teach the kids about time.
Owl Fabric Wall Decals Set of 6 by Sunny Decals
Where to buy: Sunny Decals
Are you looking for another yellow and gray item to create the wall decor in your kid's room or nursery? Here is an interesting product that we found.
It is a set of fabric wall decals showing six different owl characters. The material is safe and biodegradable. The stickers are even better because you can reuse the decals over and over again.
Trigg Large Wall Display by Umbra
Where to buy: Umbra
Are you looking for something to decorate your kitchen's wall with a gray and yellow theme? This item could be the one that you are looking for.
It is a geometric-style wall planter made from ceramic/concrete resin material. It has the combination of concrete color for the pot and copper for the holder.
A piece like this is excellent to include in any modern kitchen design.
3D Yellow Rose Wall Flower Decoration by Alycaso
Where to buy: Amazon
Do you want to add a feminine touch in the wall decor? If yes, this ceramic rose flower decoration could be an excellent choice to pick.
The yellow color that it has is not too bright. That is why it is perfect to choose when you do not want to create a popping look in the wall design.
Royal Worcester Lemon Yellow Shaped Rim Dinner Plates Set from Elise Abrams Antiques
Where to buy: Elise Abrams Antiques
The last but not least interesting item that we want you to take a look at is this wall plate decoration. This one is not a single product because when you purchase it, you will receive 12 pieces with the same design.
Right now, wall plate decoration like this is available quite a lot in the market. The design variety is various too.
Mainly for this item, it is excellent to create an elegant and luxurious look. The fact that it is a plate makes it a perfect wall decoration for a dining room
11. Closing
Those are all the information that we can share with you about the yellow and gray wall decor. The sure thing that we want you to know from this post is that the two colors are compatible with one another. That is why it won't be hard for you to create wall decor. Besides, with the ideas that we have shared with you above, hopefully, everything will get even easier.