Have you ever heard about an exterior material called stucco? If you are not familiar with it, you must know that it is still in the same type with cement.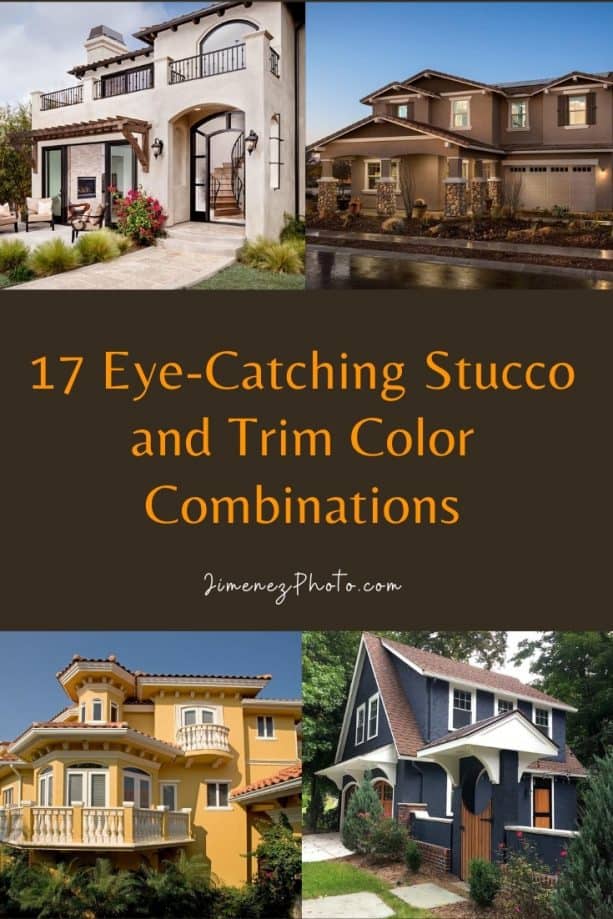 From the appearance as well as the texture, stucco looks quite similar to plaster. Although so, there is a characteristic that makes it quite different. It is that it is resistant to temperature and water.
Another thing that makes more and more homeowners fell in love with this exterior material is that the price is quite affordable. Besides, it is resistant to glare and is also an excellent option for insulators.
Many people often relate stucco with heat matters. This material indeed has an excellent ability to deflect heat.
However, it is not that good for trapping heat, and it makes people rethink using it in their exterior design.
The good news is that more and more manufacturers make inventions right now by adding modern formula and some other technologies related to insulation to deal with the heat-trapping problem. That is, we right now we can find a lot of houses in the cold climate area use it on the exterior.
With all the good things, it is reasonable for it to gain more popularity in recent years. People even fall in love with the trendy appearance.
This post will talk about how you can create a trendy and eye-catching exterior by using stucco and trim color combinations. The specific topic is about the 17 right choices of trim colors you can pair with particular stucco colors.
Before going further, we want you to know that every manufacturer usually has its names for every shade of stucco they offer. In this post, we will use the general color names to make everything easier.
Be ready to get inspired for your next project!
1. Classic Black Trim and White Stucco Combo
We always love the black and white combination, which is why we want to include it on this list. It is classic, timeless, and simply stunning. What is not to love about it, right?
Here, let us get more specific by talking about the pairing between white stucco and black trim. It contains all the benefits of the classic black-and-white combo.
When you apply it in your exterior, there are two options to consider if, by any chance, you want to emphasize the classic view in the home design.
The first option is pairing the black trim with black windows and doors, as you can see in the picture. The second option is by matching it with white doors and windows.
If being asked personally, we love the first option more. The reason is because of the boldness.
Just look at the picture of the transitional exterior above as an example. A design like this is always successful in stealing attention.
From this picture, we can also find important stucco-related information. It is none other, but the fact that there are different types of application finishes using stucco as an exterior material. Each of them gives a different final look.
In the picture above, from the appearance, it seems that the white stucco is applied by using the Santa Barbara Finish. It tends to give a soothing and soft visual as a result.
Another thing that we pay more attention to this design is the fact that the exterior combines stucco and wall siding materials, and it looks amazing. People often use a design combination like this for two-story houses.
2. Fresh and Modern White Stucco with Grey Trim
In this second combination, we will still talk about white stucco. This option is just easy to pair with any trim color. The best thing of all, it can easily create an eye-catching look.
Here, the combo consists of white stucco and grey trim. It can be a perfect selection for you who want to build up a trendy look on your house's exterior.
We know that both white and grey are available in different shades, confusing. However, if the final result that you want to get is a fresh and modern look, there is a limitation that you must know.
The first limitation is the choice of white stucco. The modern, fresh look is easier to obtain when choosing a white shade that does not contain any warm undertone in it.
The same idea is also applied when it comes to the grey trim shade options. Anything from the light to dark shades is fine to choose, but please do not pick something with a warm undertone like greige.
About the choice of door and window color to pair with the white stucco and the grey trim, the most effortless option is, of course, shades that look nice together with white and grey. A good example is black, as you can see in the picture showing the pairing between white Santa Barbara stucco and grey trim.
Other than that, some different modern shades will do. The application gets even easier because both white and grey are quite neutral.
If you want to, you can even create a more interesting exterior design. The example is when you color the door with a different shade from the windows. A bright and bold color is an example.
3. Tuscan White Stucco and Off-White Trim for a Soothing Look
When thinking about the trim and white stucco combination, you can think about using the same white and white design. The picture of a Mediterranean exterior above shows an example.
As you can see, this gorgeous house has off-white trim as the match for the Tuscan white stucco wall. Both shades have the off-white feel in them, and it becomes the reason they look good together.
A choice like this is perfect for creating a soothing look in your exterior. It will get better when you also consider the colors of other exterior elements carefully.
A good example from the picture is the choice of red clay shingles for the roof that makes the house look even more fabulous. Besides, you can also see some wooden brackets for the roof extensions in front of the windows and doors. The color of this element matches the Tuscan white tone of the stucco material very well.
Although the glass doors and windows in this design have black color, the portion is not too much. That is why they only add a bit of boldness without disturbing the soothing appearance.
4. A Cozy Contrast with Bronze Trim and Chiffon White Stucco
When you use white stucco material, can you create contrast or even bold look but still get the cozy feel in the design? Of course, you can.
In this case, you can count on the trim color choice you will pair with the stucco. Our suggestion is bronze, particularly the shade that is the closest to brown.
Bronze color does not only have a cozy touch in it. It also has an elegance that can make your exterior even catchier.
What about the white stucco option? If you want the house looks cozier, it would be better to consider warm white options more than the pure ones.
The picture above contains all the details we can consider as examples. Those include the chiffon white stucco and the bronze trim.
The interesting point is that the type of trim used is from a metal material that gets bronze color in the design. That is why the final result does look not only cozy and contrast but also elegant too.
5. Stunning Off-White Trim Paired with Grey Stucco
Now that we are done talking about white stucco and some other excellent shades for the trim let us talk about this time's grey option. Grey stucco is something that you can pick for creating a trendy exterior. The visual resulted, of course, depends on the color you select and the trim to match it.
Here, we will talk about something even more specific. It is about pairing a grey stucco wall with white trim that is suitable for creating a stunning exterior.
You can pair the grey stucco with any shade of white for the trim. In the example that we found, the tone of white used is off-white. No matter what, the combination between white trim and grey stucco always results in a stunning look, particularly when the shade of grey you pick is darker.
Another detail that we love about the design example that you can see in the picture is the addition of different colors for creating and contrasting look. Here, we are talking about the orangish front door. Besides, some other design elements also have a similar tone, including the base and top of the columns, the stair rails, and even the wooden fence.
6. Bold Grey Stucco Exterior with Black Trim
For the bold exterior fans, choosing black trim and grey stucco can be the right decision to do. You can look at the traditional house picture above as proof.
This house has a rather simple design. However, the exterior color scheme is successful in creating a stun.
It gets even better because the design also shows consistency in how the black color is found on the trim and other elements like the door, windows, posts, and even a small detail like the mailbox. FYI, we love the matte finish of the black paint use on this exterior. It somehow creates a trendy and stylish appearance.
Again in this design, we can see the combination between stucco and wall siding material. It seems that this combo is very common this time, and it is reasonable because the look is distinctively beautiful.
7. Tan Stucco and Off-White Trim for an Inviting and Warm Look
Some people prefer a warm and inviting look in their exterior. If you are one of them, then this next combination is excellent for you. It is none other but off-white trim and tan stucco, as shown in the picture.
The visual shown by this combination is somehow relaxing and peaceful. You can consider it when you want to place some alternative living or dining outside the house. The outdoor dining area in the French country house above is an excellent example.
Imagine that you are sitting there while enjoying your meals. An exterior color scheme like this can build up a warm atmosphere for an even better dining exterior.
The addition of the lantern-style wall lamps with yellow light makes everything even more perfect.
8. White Trim as an Effortless Choice for a Brown Stucco House
Let us talk about coziness this time. In both interior and exterior, brown is always an excellent color to build up a cozy feel. That is in this subheading; we will start talking about brown stucco.
No matter how you use it, brown color stucco will always be successful in making your exterior design looks cozy. Although so, you must be careful in choosing the trim tone to pair with it.
If the house is dominated by brown, as you can see in the picture, the monotonous appearance can be a problem. It can create an uncomfortable warm visual.
That is why the addition of white trim in the design as done by the designer is a clever solution. The tone creates a balancing view that makes everything perfect. Besides, white is also an easy choice that you can count on when picking the right trim color for your brown stucco house.
9. Tuscan Brown Stucco with Wood Brown Trim for a Super-Cozy Appearance
Other than white, you can pick brown as the trim color for your brown stucco wall exterior. If that is so, how can you avoid the uncomfortable warm, and monotonous look?
The trick is quite easy, actually. You just need to create a contrasting look by ensuring that the brown trim color is darker than the tone you pick for the stucco wall. However, please make sure that the options are not too bold so that the cozy look that you want will still be visible.
For example, if the stucco is in a Tuscan brown tone, you can choose a brown trim as the pair, as you can see in the picture. Other possible choices you can consider are; cedar brown, umber brown, and coffee brown.
10. A Classic Neutral Look with White Trim and Taupe Stucco
Taupe stucco is the next option that we suggest to consider if you want to create a catchy exterior. For you who are not familiar with this shade, we can say that it is brown that has a subtle to strong grey undertone in it.
If being asked about the color category, taupe is a neutral shade too. Although so, it does not mean that you can pair the taupe stucco material with any trim without considering how it looks.
For an easy choice that will still give you awe, white is the trim tone that you must choose. The visual effect that it provides is more or less the same as the one done to the brown stucco, balancing.
11. Bold and Classic Look with Red Stucco and Black Trim Combination
Red is another classic option for stucco color that you can use to create an extraordinary exterior. Pair it with black, and you will see boldness too.
The picture above shows an awesome example that we found. This stucco exterior has a brick red color with black trim as the combination. Something like this can make the house looks stunning even from away.
You can color the doors and windows with the same black color as the trim for an even bolder look.
12. A Welcoming View with Wood Trim and Red Stucco
Red stucco material can also build a welcoming visual when you pair it with the right trim color. The option that we suggest you choose here is wood with its natural color.
Both shades always look good together. The trim's wooden element will help you make it easier for the red stucco house to blend with nature.
You must know that any shade of red for the stucco is easy to pair with any wood color. However, if you also want a relaxing sensation, darker shades are the better options.
13. Creating a Cheerful Look by Using White Trim and Yellow Stucco
Do you want to create a catchy exterior with some cheerful impression? If so, the combo between yellow stucco and white trim is the best selection.
When used in exterior design, any shade of yellow is ready to steal attention. However, some people are not brave enough for the option.
If you are interested in this combination, you can consider adding a balance by choosing the right roof tone. In this case, a darker color is better to pick. This choice is also suitable to consider when you are interested in yellow stucco but do not want it to look too cheerful.
Navy blue stucco is another catchy option you can select for your home exterior design. It has the boldness and elegance to create an appealing look.
As for the trim to match it, the best option that we suggest you choose is none other but white. There is an important reason why we said so.
White trim is an exterior element that does not only have a compatible visual when paired with navy blue stucco. It is also something that can highlight the blue tone so that it pops even better.
The picture that we found shows a really good example. You can see how fabulous it is the combination of navy blue stucco and white exterior trim.
Other than that, the designer of the transitional house also cleverly chose other elements. Those include the brown roof shingles, wood door, gate, and brown brick in the lower part of the fence.
All these materials add coziness to the house. Besides, they also avoid the building from looking too cold because of the dominating navy blue tone.
15. White Trim and Light Blue Stucco for Beach-Style Exterior
This next combination is an excellent selection if you are a beach-style fan. It is between white trim and light blue stucco.
At a glance, it is clear that the combination represents the blue sea or the blue sky and the clouds. However, the most important thing is that it can bring a refreshing impression.
Indeed, a combo like this is often found in near-beach locations or some other tropical places. Although so, it does not mean that you cannot use it if your house is far away from the sea.
16. A Unique Refreshing Look with White Trim and Greyish Blue Stucco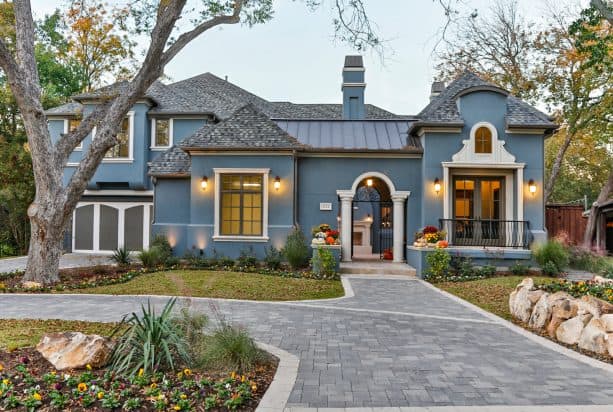 If, by any chance, you like the blue color, but at the same time, you also think that it will be too much to use it as the stucco color of your exterior, here is an excellent solution that you can consider. It is by choosing a greyish-blue tone with a rather strong grey undertone, as you can see in the picture.
The best type of trim you can pair with this kind of exterior material is white. For creating an even more subtle look that will not make the greyish blue stucco pops too much, we suggest you pick off-white or antique white trim instead.
The picture example above shows everything that we just said. The design is also fabulous because the designer chose a muted grey tone for the window and door color. The multi-tone roof also has grey color domination that makes it suitable for the exterior design overall.
17. Pear Green Stucco and White Trim to Freshen up Your Exterior
This last but not least combination is perfect to choose if you love green or a fan of popping exterior design. We said so is the stucco color that we will talk about here is pear green. This tone is not too bright but is more than enough to steal attention.
For an appearance like this, white trim is undeniably the best selection to put into consideration. We suggest you choose thin trim instead of the bulky one.
The reason behind the suggestion is that this way, the white trim will not steal the charm of the stucco wall's pear green tone. Instead, it will only accentuate it.
From the picture, you can also find a design idea that is worth using. It is the fact that the designer of the house even used grey stucco as a combination. Besides the fact that it strengthens the contemporary style, it avoids the house from looking exaggerated if the green hue dominates it.
18. Closing
Those are the 17 options of catchy stucco and trim color combinations that we can share with you. The choices are various so that you can pick one for your next project.
When reading this post, you may wonder about how the stucco wall can have various colors. When talking about tones, you must know that this material is available in pre-colored options. However, it also exists in the form that you can color with paint later.
In means, if you cannot find the exact color that you want, you can always choose the second option. This way, you can color the stucco wall with any tone that you want.
When you choose so, please remember that the painted stucco wall needs some maintenance. If you maintain it properly, its quality and good look will last longer.