Stained brick before and after ideas are the ones you need to get inspired before doing the staining project on your own. They will show you about how different types of brick surfaces looked like before getting the treatment.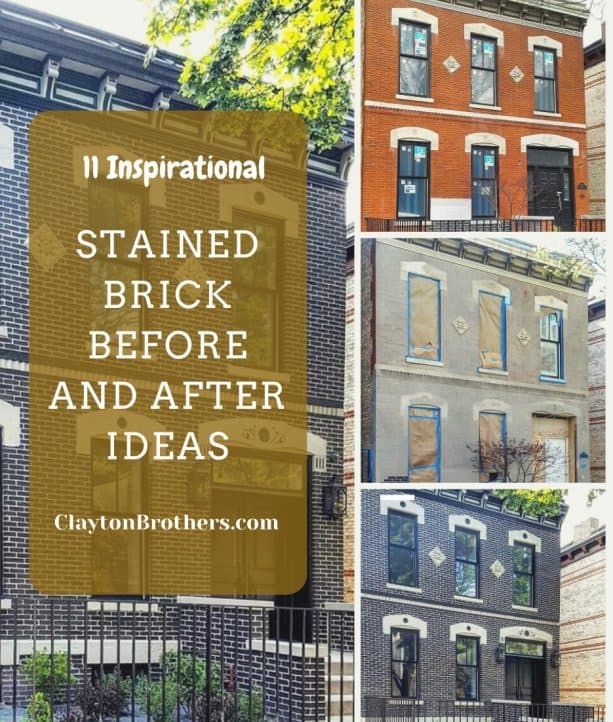 In this post, we will show you 11 before and after ideas of stained brick to get your inspired. From each of them, you can see that a staining process can really change the look of a brick surface into something better or something to satisfy each personal taste.
However, before going there, we will first tell you about some general knowledge about the coloring technique. This information will make it easier for you to understand each before-and-after idea that we will share later.
Let's begin with the definition first.
1. What Is Brick Staining?
As we already told you in the opening, brick staining is one of many choices of techniques to add a new color to brick material. The way is by applying a particular coloring called stain to a brick surface.
A product like this is different from the paint. That is why when you want to stain your brick surface, you must not forget to choose only a brick-staining product to use in the project.
The product used in this technique works more or less like a dye. It becomes the reason why another name of the process is brick-dyeing.
As we already told you earlier, it is not the same with paint. The stain will become absorbed by the brick surface and not creating any covering or coat on it so the brick can still breathe.
If being asked about the function, brick staining is not only useful for adding a new color to the brick surface. It is also beneficial for repair in some cases.
2. Where to Apply the Technique?
If being asked about where you can apply this staining technique, we can say that it applies to any brick surface. It works in the exterior as well as the interior of your house.
It works not only on the walls. You can also use the same coloring technique on some other elements like fireplace, floor, ceiling, and so on as long as the material is brick.
3. How to Do It?
There are several steps you must follow in brick staining. Before you start the project, the first thing that you must do is preparing the brick for it. The way is by cleaning the surface thoroughly. After that, you must leave it to perfectly dry for the most excellent result later.
Another thing that you must make sure in this step is that your brick still has the ability to absorb water, or else you cannot stain it. To test it, you can try to splash water on the surface. If the water is absorbed, then you can continue to the next step. If it runs down or beads up, it means that the brick has a kind of sealant, and you must remove it first by using a special solution before being able to do the staining.
When done with the preparation, the next thing to do is the staining process itself. In this case, you will use a product called brick stain. It is something that you can get quite easily right now.
It gets even better because many are available in a ready-to-use or easy-to-use form. This fact makes brick staining quite easy to do by anyone, even by those with low skill.
If by any chance, you cannot find any stain that meets your taste, there is a trick you can do. It is by adding a special pigment to the staining product that you buy.
Next, you must test the color that you use by applying it on an inconspicuous surface just to know whether or not it meets your taste. If you do not want the look, you can make it lighter by adding a certain amount of water to the stain. You can also darken it by adding more pigment to it.
When you finally get the tone that you want, you can start staining. The way is by brushing it onto the brick. Here, we suggest you to use the same direction to make the result look even better later.
If you do not want to use a brush in this process, you can use a clean rag. A method like this usually results in a more uniform look.
In brick staining, you can apply more than just one coat if you want to. However, we suggest you make the second application after waiting for at least 24 hours after the first coating.
4. Is Brick Staining Better Than Painting?
In some ways, brick staining is better than painting. We can say so because the process is not only easier but also quicker to do.
Besides, a staining process will not mask the natural brick texture. Instead, it will accentuate it.
5. Before and After Inspirations
Now, it is time for us to show you some most inspirational ideas showing the condition of various brick surfaces before and after staining. Each of the inspirations that we found and finally included on the list below has a special point that makes us love it and want to share the findings with you.
Check them all out in the following.
Dark Grey Stain over Red Brick Exterior Walls
The first stunning idea that we found is this application of a dark grey stain to upgrade the look of red brick exterior walls in a residential building in Chicago. People usually do a project like this when they want to sell their property. This way, they can create a better chance of selling, which means the more people will be interested in their houses or the price of the building can get higher.
Another reason why people stain their exterior brick walls is to cut the future cost. Here, you need to know that once stained, a brick surface usually does not require any special maintenance. Besides, the stained effect itself can generally stay for quite a long time, which is usually at least five years.
In the picture above, you can see that the red brick walls look so different after getting the dark grey stain. It makes the exterior gains a more elegant and stylish appearance. Overall, the result seems trendier here.
Creating a Brand New Look with Brick Staining
Staining is also suitable to do when you want to make an old brick surface looks new. The picture above shows a good example.
It is just one picture. However, it shows the difference before and after the exterior walls get stained.
You can take a look at the upper left corner of the picture to know about how the exterior looks before the new color is applied. After the dyeing process, you can see that the brick surface looks darker and better because of the more uniform appearance.
The thing that we also want you to know from this project is that the homeowners did the staining without any professional help. When done by more people, a project like this can be done faster.
No matter what, all your effort and time in staining the brick surface in your home design is definitely worth it. It is moreover because the result is something that will last for quite a long time. Some manufacturers even feel confident in giving each of their customers a lifetime guarantee, which is just fascinating.
Brick Staining for Creating a Uniform Look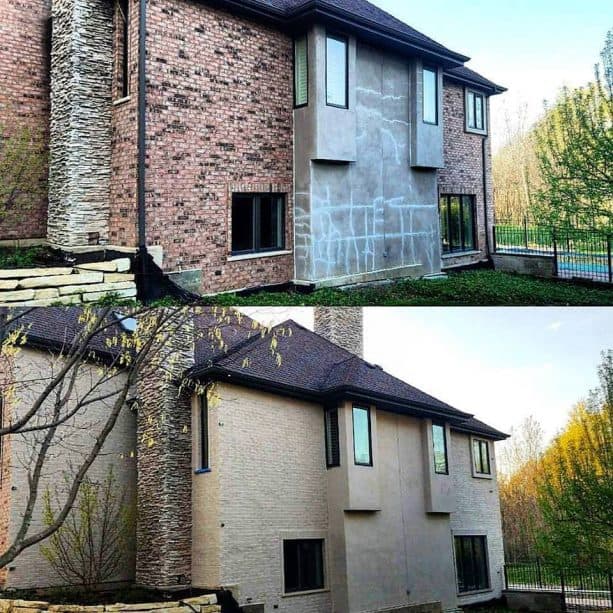 Exposed brick walls can gain an uneven look because of mold and some things after years. If you are facing the same thing, you need to know that staining can help.
As proof, you can take a look at the picture above. The top pic shows the condition of the exposed brick home exterior condition before it gets stained. As you can see, the color looks uneven because of something, which seems to be mold or algae.
In the lower picture, you can see how the house looks better after the staining treatment. The concrete wall in the middle even gets the same color for the sake of a coordinating look.
If you are interested in the idea, there is one thing that we want you to remember before doing the staining. It is to clean the exposed brick wall thoroughly from the mold or algae so that later you will get the most excellent stained result.
Get Your Most Favorite Brick Tone with Staining
If you buy a new property and it has an exposed brick exterior, there is a chance for you not to like the current tone of it. In this case, the staining method can help so that you can live in the property more comfortably.
As an example, you can take a look at the picture above. As you can see, the original building has a yellowish brick tone before the staining applied.
After the staining process, the exterior gains a darker brown color. Something like this does not only give a new tone to the exterior design of the building. It makes everything looks refreshed and clean too.
New Black Stain for an Elegant Fireplace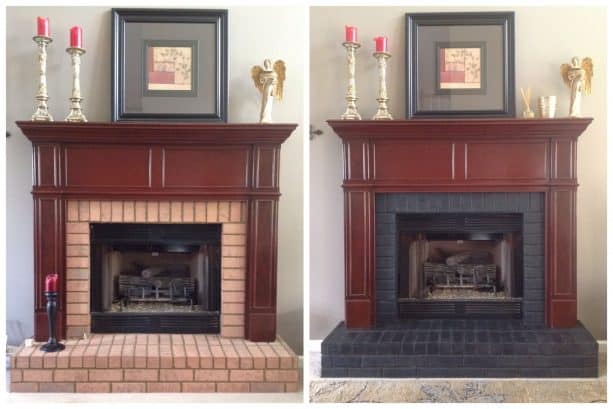 Another brick element that often gets a makeover from staining is the fireplace. Many people love to keep the original brick appearance on this item because it provides not only a beautiful look but also texture. By staining, both of these values will not be gone.
The picture of an elegant fireplace above is an example that you can take a look at. At first, it has a natural tan color. After the staining, it becomes black.
The new tone on the brick hearth and surround adds a bold touch to the interior design. Besides, it makes the fireplace looks even more elegant. The new color also looks suitable for the reddish wooden mantel that is already there since the very beginning.
A More Stunning Stained Brick Fireplace Overmantel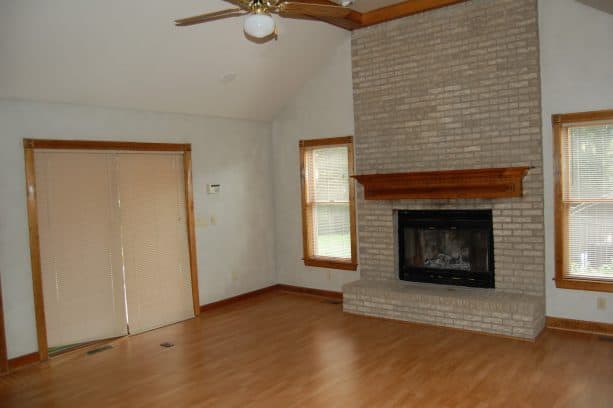 Sometimes, the fireplace makeover can get even more significant. The example is available in the picture above.
It shows a brick fireplace in a family room. As you can see, before getting a new color, this interior element looks quite dull. It affects the room design quite much because of the floor-to-ceiling size.
After the makeover, the fireplace gets a multi-tone red-stained appearance. It looks way better than the condition before the project is done. Besides, it builds up a warm atmosphere in the family room too.
The size of the overmantel makes everything even better too. The reason is that it makes the whole construction of the element prominent in the interior. It can also become something accentuating because of that. Moreover, the placement of the fireplace is in the center position.
Stained Makeover on Brick Chimney
A chimney is another exposed brick element that people often forget to update because the location makes people notice it less than any other part of the house. However, when it gets old, the appearance may change, and it may affect the house look from outside. Moreover, some weather-related problems can make it looks ugly too.
That is why you must try to check the chimney of your house now. If you think that the appearance is no longer pleasant to see, staining it may change everything.
The picture that you see above is an example. In the pic, you can see how a stain can change the dull and dirty look of the brick chimney into something new.
Store Brick Exterior Update with White Stain
Brick staining is a method you can use to update the look of your business place too. An example is when you have a store.
With a new look, your store can be more pleasant to see. It can even increase your sales because more people are interested in visiting it.
The picture of a sweet and treats store above is the example. At first, it has a red brick exterior. After getting stained, the color of the wall becomes white, and it makes the place look even better than before.
Brick Staining for Aged Look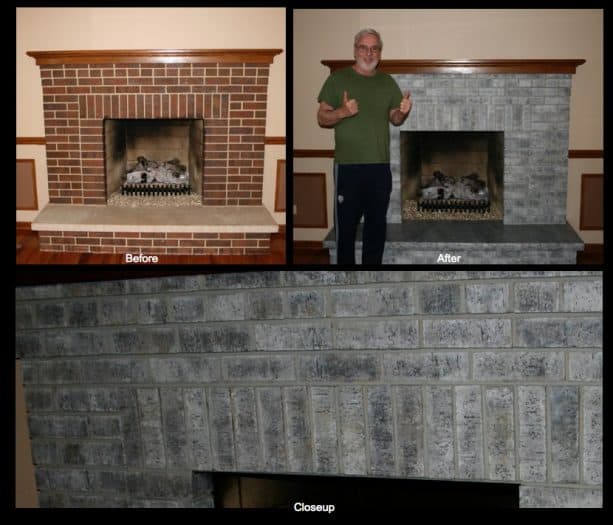 Staining is not only functional in renewing the look of any brick surface. By using a specific technique and the right choice of color, you can create an aged appearance too.
As an example, you can see the picture of a fireplace above. Before the staining, actually, this interior element still has a clean look and good appearance.
Although so, it seems that the homeowner wants it to look aged. Something like this is a matter of preference, and you can give it a try if you want to.
Full Exterior Makeover with Brick Staining
Please take a look at this before-and-after picture of a brick house. At first, the exterior brick walls have a multi-tone appearance. Together with the design of the house, they create a more traditional look here.
After getting the makeover by using a staining technique, the brick walls gain a single-tone look. Thanks to the grey stain, that also creates not only a cleaner and brighter look but also makes the house looks more modern now.
Trendy White-Stained Fireplace
Do you think that your red brick fireplace does not look trendy? Why do not you try to update it by applying a white stain on it as shown in the picture above?
Although something white like this is quite easy to match with any other color, it seems helpful to add more white items in the interior too. The reason is, of course, for creating a compatible look in your house.
A white fireplace like this is quite popular in these recent times too particularly because of the clean look and versatility. You can use it in any interior style. However, it looks best when you use it in a modern, contemporary, mid-century, farmhouse, or chic design.
6. Closing
Those are all the stained brick before and after ideas that we can share with you in this post. Of course, out there, so many other designs are available. However, we think that the ones we have on the list are quite interesting.
Besides, each of them can represent the reason why people want to get their brick surface stained. This way, you can find the right inspiration before doing your own project.
What do you think about all the ideas above? Do you think that all of them are interesting enough? Do you have some other ideas about the brick staining project in your mind? Share your thought!