The combination of grey walls with wood floors seems to be something on the rise right now. Depending on the tone chosen for each element, there are different types of ambiance and appearance can be resulted.
As for the grey wall color itself, besides the fact that it tends to create a modern and contemporary visual, there are two appearances that it can produce. Those include cold and warm.
The best thing of all is that you shouldn't worry too much about including the wall color in your home interior design. The reason is that most grey tones have a neutral capacity that makes it easier for them to be paired with any colors.
This fact affects the combination between the grey walls and wood floor. The reason is that this type of flooring is available in so many shades. Besides, there are also various stains available to alternate the natural wooden appearance.
The design that consists of grey walls with wood floors is suitable to consider when you have a plan to build a house or to renovate or redecorate your current place. If you are interested in it, we have the list of wonderful inspirations that include all room types. With the ideas, hopefully, you can get inspired to design your house with the two elements.
1. Living Room
Airy Living Room with Medium Grey Wall and Dark Wood Floor
The closest match for the wall paint: Tudric Pewter by Ralph Lauren
Floor: Engineered birch floor with hand-scraped style by Shaw
Some people think it must be hard to create an airy feel in their living room. It is especially when they want to combine a medium or even darker shade of grey for the walls and a dark-colored wood floor. Many of them think that the combo will only make the interior looks dull.
If you also think so, but at the same time you are interested in the color combination, there is a trick you can do. It is by including large glass windows that face the right direction to allow more sunlight to enter the room.
To erase the dark and dull impression even better, you can also include white interior trim for wall detailing and for the window frame.
Visually Spacious Living Room with Light Grey Walls and Dark Wood Floor
Wall paint: Benjamin Moore Cement Gray 2112-60
Floor: Dark wood flooring
Is your living room not so spacious and has a rather low ceiling? Does it have a dark wood floor too?
If all the answers are yes, you need to know that if you choose the wrong grey tone for the walls, you can make the room feel even smaller. If so, which shade of grey to pick then?
For a living room like this, you can pick a lighter tone for the grey wall paint because it can create a more spacious impression. It can be better if you also paint the ceiling of the room in white to visually remove the low look.
Calming Living Room with Greige Walls and Grey-Stained Wood Floor
Wall paint: Benjamin Moore Pashmina AF-100
Floor: Silvery-stain wire-brushed French oak hardwood floor by Gaetano Hardwood Floors
Greige is another color you can pick for your living room walls. If you are not familiar with the name, it is a tone with the combination between grey and beige.
When paired with the right wood floor, greige walls can create a cozy and even calming interior. As an example, you can match them with grey-stained flooring like the one you see in the pic, in which a silvery-stained French oak material is chosen.
This type of wood floor seems to prove that different shades of brown are not the only options available. Besides the fact that it can support the calming atmosphere, this option also makes the interior looks ampler.
Natural Touch with Stone Wall
Wall-size fireplace surround: dry-stacked gray-blue limestone
Floor: White oak wood floor with sanded white finish
For you who are interested in bringing a natural touch to your living room, stone walls are better to select than the painted ones. In the pic, the example that you see is dry-stacked gray-blue limestone material used for covering the wall-size fireplace surround.
Of course, a choice like this is not only suitable to use to create this kind of interior element. If you want to, you can also use it to create an accent wall that will surely arrest people's attention when entering the room.
For a stronger natural look, choosing an unfinished wood floor would be nice. However, if you don't like the option, you can choose something that adds a bit of color to the material without 100% erasing the original look. The example is a grey stain or grey wash option.
Bold Living Room with Charcoal Walls
Wall paint: Benjamin Moore Iron Mountain 2134-30
Floor: Heart pine floor with grey wash stain
Light or medium grey wall paints are not the only options you can pick for the living room. You can also choose a dark choice like charcoal and create a stunning bold look that you will love.
When choosing a rather dark color like this, it is reasonable for you to worry that the room will get too dark for a gathering-spot so it will create discomfort. In this case, what should you do?
The answer is already available in the picture above. You can pair the charcoal walls with a bright wood floor. The material used in the example is heart pine with grey wash staining.
It is also excellent that the window also provides enough natural light at day. Besides, there is also a white ceiling that will not make the room looks darker and shorter.
2. Entry and Hall
Welcoming Entry with Warm Grey Walls and Brown Wood Floor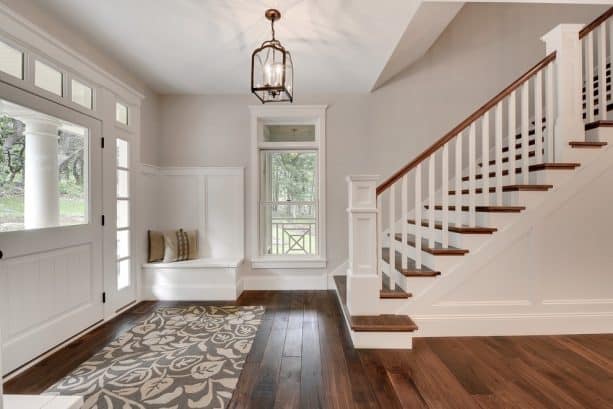 Wall paint: Benjamin Moore Edgecomb Gray HC-173
Floor: Solid walnut floor with a water-based finish
A welcoming ambiance is always crucial for an entry. If the choices are limited in the combo between grey walls and wood floor, it means you should choose the color scheme carefully.
As an example, you can choose a warm grey tone for the wall since it can create a better welcoming atmosphere. For the floor as the match, you can pick one that has a brown color, no matter whether it is natural or comes from a staining process.
This type of flooring can create a cozy look in the entry. It means people can feel comfortable once they enter your house.
Cozy Hall with Dark Grey Walls and Dark Brown Wood Floor
Wall paint: Benjamin Moore Chelsea Gray HC-168
Floor: Solid white oak with a custom dark stain
Focusing on the coziness can be excellent when it comes to designing a hallway. Therefore, you can limit the color options for the walls and floor in choices that can create the effect.
You can give a try to the combination of dark grey walls and dark brown wood floor. This combo will create the coziness you need. Even if the hall is quite tight, because of the color scheme, it will never be exhausting or even suffocating for you to pass it.
To avoid the place from looking too dark, add white interior trim in the wall design. You can also use it to on door frames too.
Black Accents in Hall with Dark Wood Floor and Grey Walls
Wall paint: Benjamin Moore Barren Plain 2111-60
Floor: Prefinished hardwood flooring by Vintage Flooring
For a hall that looks too neutral because of the grey wall and brown wood floor selection, you can try an accentuating design. The way is by adding contrast or bold color in the place.
Take a look at the picture above as an example. Here, black is the accentuating color. You can see it in the doors and console table.
To avoid a dark impression in the hall, the designer also uses white trims. They also use the same tone for the ceiling to create a taller and ample illusion.
Refreshing Entry with Light Grey Walls and Bright Yellow Door
Wall paint: Benjamin Moore Wickham Gray HC-171
Door paint: Benjamin Moore Golden Orchards 329
Floor: Hardwood
Indeed, most of the time, the combination of grey walls and wood floor in an entry or any other rooms tends to create a neutral look. What if you need something more refreshing so you can start each day full of energy and positivity?
In this case, you need to add a third color in the color scheme. The example is the yellow tone you can see on the door of the transitional entry above.
It gets even more exciting because the sunny color does not only add a refreshing ambiance to the entire entry area. It also adds a color pop that makes the design looks fun.
Neutral Entry with Light Grey Walls and a Darker Grey Door
Wall paint: Sherwin Williams Repose Gray SW 7015
Door paint: Benjamin Moore Kendall Charcoal HC-166
Floor: Hardwood
If you want to keep the neutral color scheme but at the same time, you also want to add a different touch in the entry design, choose a different grey shade for the door. In this case, the one we suggest you choose is a darker tone.
The reason why we said so is that this way, you can add a touch of boldness in the entry area. It will also make the door as a more prominent accent to arrest more attention there.
3. Bedroom
Relaxing Bedroom with Warm Grey Walls and White Wood Floor
Wall paint: Benjamin Moore Classic Gray OC-23
Accent wood-like wall: Chene wallpaper by Nobilis
Floor: Engineered white oak floor with natural hard wax oil finishing
The combination of grey walls and wood floor is also a suitable choice for the bedroom area. However, you must suit it with the primary function of the room, which is a place for resting.
Because of that, you need to limit the choices of color for the room. As an example, you can choose a greige shade for the walls since it can create a cozier atmosphere.
The grey-washed accent wall from wood-like wallpaper above is also a good example. The final result looks calming in the pic. It is even more excellent because it has a compatible look with the wood floor.
Dreamy and Cozy Bedroom with Soft Grey Walls
Wall paint: Benjamin Moore Cement Gray 2112-60
Floor: Engineered African mahogany by Mirage Floors
For you who want to create a dreamy look, soft grey is the shade you must choose for the walls. Its dominance will build the ambiance excellently.
As for the wood floor, a dark brown option would be excellent. The reason is that it is a perfect selection for creating a cozy look. Besides, the tone is also helpful for making your eyes relaxed whenever you want to go to sleep.
A Calm Bedroom Environment with Bluish Grey Walls
Wall paint: Sherwin Williams Comfort Gray SE6205
Floor: Hickory wood floor with Dark Walnut Stain by Minwax
Another option that you can choose for creating a calming bedroom environment is a bluish-grey tone for the walls. This kind of color has a blue undertone in it, so it also emits the relaxing visual effects just like the one owns by the real blue shades.
To help you build the calming effect, you can choose a wood floor with a dark tone, just like the one you see in the picture. If you do not want the entire floor to have a dark look, you can add an area rug with a color that suits the scheme you build in there.
An interesting thing that you can find in this picture is that the designer uses wood material on the ceiling. When you lay down on the bed, this detailing will also help you to find calm and relaxing state for better quality sleep.
Wall paint: Benjamin Moore Beach Glass 1564
Floor: custom-stained white oak
Take a look at this shared bedroom, which seems to be suitable for a family with more than just one kid or teen. The inspiration that we want to show you more from this picture is about the use of real grey stain on the wood floor. It makes it has a quite similar look with the walls.
When you choose a design like this, we highly recommend you to use interior trims to separate the walls and floor. This way, the room's dimensions will visually make sense.
Besides, you can also avoid placing too many items with grey color in the room. The only reason is that the tones of the walls and floor are already dominating the space.
In the pic, the designer includes furniture and ladder with natural brown wood color to break the dominance. This idea can avoid some dull look too.
Warm and Cozy Bedroom with Greige and Beige Domination
Wall paint: Benjamin Moore Edgecomb Gray HC-173
Floor: Hardwood with a dark stain
A warm and cozy atmosphere can make a bedroom a better place for resting. Do you think the same?
If yes, you should try to decorate your bedroom with the combo between greige and beige. For perfection, use dark brown stain for the wood flooring.
The example above is an excellent one. You can see the greige color on the walls. The bed and the curtains have the beige tone as the match.
4. Dining Room
Dramatic Traditional Dining Room with Medium Grey Walls and Dark Wood Floor
Wall paint: Benjamin Moore La Paloma Gray 1551
Floor: Solid oak hardwood floor with espresso finish
Do you know that grey is another most excellent color to use on dining room walls? It is neutral, attractive, and not overpowering in the design. It also can add a dramatic look in the room and prominence to the furniture.
The picture of a traditional dining room above is the example. The grey color of the walls can build a dramatic impression in there. Besides, it also emphasizes the furniture set in the center, particularly the table.
The choices of medium grey tone for the walls and espresso for the woof floor are excellent. Both of them build up a cozy ambiance in the room, and they don't make the place too bright too. This way, everyone can enjoy every mealtime more comfortably.
Eco-Friendly Grey Dining Room with Reclaimed Wood Floor
Wall paint: Benjamin Moore Stonington Gray HC-170
Floor: reclaimed wood with custom gray wash
If you take a look at the picture, you can see that the combination between the grey wall and the adequate amount of natural light that comes in through the windows is excellent. It makes the dining table set the center of attention in the place. Something like this is necessary for any dining room.
That is not the only interesting thing we want to say to you about this pic. The wood floor here also keeps a big surprise.
For you to know, it is not a brand new one. Instead, it is made from reclaimed wood material, which is another brilliant inspiration you can keep in mind.
This kind of material is not only budget-friendly but is also eco-friendly. To give it a new look, you can add coloring to it, such as by grey-washing as done to the floor you can see in the picture.
An Open Dining Room with Bluish Grey Wall and Clear-Finished Wood Floor
Wall paint: Benjamin Moore Wedgewood Gray HC-146
Floor: red oak wood floor with a clear finish
If your dining room has an open design and it is connected to a living or a family room, you should carefully choose the grey tone for the walls. The most important thing is that the color you are about to pick must be suitable for both of the areas.
If you need an example, the bluish-grey wall tone in the picture above is a good one. First of all, it is suitable for emphasizing the furniture set in the dining area. Second of all, it can build up a relaxing atmosphere that can make people feel like to spend time in the living room.
As for the floor you see here, it is an oak floor that receives a clear finish. It adds a warm touch to the place without overpowering. Besides, the type of finish chosen here creates a clean and sleek impression that is great for both rooms.
Bright Dining Room with Grey Walls and White Wood Floor
Wall paint: Benjamin Moore Silver Satin 856
Floor: White oak wood floor with a matte water-based finish
For some people, a brighter dining room is a better choice to select. This opinion is not merely about the fact that it is more comfortable to enjoy meals with adequate lighting. It is also a form of an effort to add more functions to the place, which is more than a spot for eating at home.
The question then is, can the combo between grey walls and wood floor do that? Thankfully, it can.
If you want to create a brighter dining room, the grey walls must be brighter too. Besides, you should choose a white wood floor instead of the dark one.
In the picture above, the dining area does not only has enough lighting from outside but also has the choices of simple chairs and a large table. This way, it is possible to use the room, for other function such as group studying or meeting.
Warm and Welcoming Dining Room with Greige Domination
Wall paint: Sherwin Williams Modern Gray SW 7632
Floor: Grey-stained red oak floor
The dining room is also a place where you can welcome some guests to have quality time while enjoying the meals you serve. That is why considering a warm and welcoming atmosphere in there can be thoughtful.
To create it, you can choose a warm shade for the walls, such as greige. For an even stronger ambiance, you can pair it with a darker wood floor and beige for the furniture and decoration.
5. Kitchen
Clean Kitchen with Grey Walls and White Trims
Wall paint: Benjamin Moore Storm AF-700
Floor: wood floor with oak stain
For a kitchen area, grey is the wall color that can create a clean impression. It is just like when we see stainless steel appliances that at the same time, also make the place has the professional cook and sophisticated touch.
It will get better when you also match the wall color with white interior trims. They can make the room brighter for more convenience in cooking.
Unique Kitchen with Grey-Washed Wall-Size Range Brick Backsplash
Wall paint: Sherwin Williams Gray Clouds 7658
Floor: hand-scraped plywood with oak finish
Deciding to use grey shade on your wall can also allow you to create something unique for the kitchen design. The example is the backsplash behind the range.
Instead of using tiles, you can create something different by using grey-washed bricks. A backsplash like this can get even more impressive when you also make it as an accent wall. The way is by choosing wall size.
Foody Kitchen Style with Espresso Tones
Wall paint: Sherwin Williams Sticks and Stones 7503
Floor: hand-scraped hardwood flooring
Espresso can be the best color to pick for the wood floor and furniture to create a foody style in your kitchen area. It is particularly when you are also a coffee fan.
If being asked about the grey wall tone that will be suitable to pair with it, the final look will depend on the choice. As an example, the choice of paint you see in the picture creates a warm and cozy atmosphere after being paired with the espresso floor in the cooking area.
Cozy Open Kitchen and Dining Room with Warm Grey Walls and Medium Tone Hardwood Floor
Wall paint: Sherwin Williams Mindful Gray SW 7016
Floor: Hickory wood floor
Building up a cozy atmosphere in the kitchen area can be important too. One of the reason is that it can be an alternative place for having meals and even quality chat.
The atmosphere can be an even more crucial thing when you have an open kitchen connected directly to the dining area. The pic above is an example.
In this case, you can choose a light and warm grey tone for the wall. Something like this can create a cozy ambiance without creating a too hot and heavy look.
Kitchen with White Furniture and Grey Walls
Wall paint: Benjamin Moore Horizon Gray 2141-50
Floor: Oak floor with Early American stain by Minwax
If your kitchen is dominated by white furniture, can you use the grey wall and woos floor combo? Of course, you can. Remember that both of the colors are neutral and are pairable with any shades easily.
Even if the grey wall tone you pick is rather dark that it finally creates a contrasting look when paired with the furniture, it would be okay. The same idea is also applicable to the hardwood floor.
6. Bathroom
Manly Bathroom with Grey Subway Walls and Dark Wood Floor
Wall: Mid grey subway ceramic tile by Tile Giant
Floor: Engineered oak with a dark wood black stain by Furlong Flooring
Grey and wood colors are excellent for creating a manly look in your bathroom. There are so many ways available for using both of them in the room.
Since it is a bathroom, we suggest you choose a suitable material for the walls. An example is available in the pic above, which is grey subway tiles installed on some parts of the wall only while the rest have a white tone.
Dark wood is chosen for the floor material here to create a manly look. There is even a compatible toilet seat cover from wood added to match the floor there.
Farmhouse Bathroom with Grey Beadboard Walls
Wall paint: Benjamin Moore Anchor Gray 2126-30
Floor: 19th-century heart pine flooring with a clear oil-based sealer
If you want a farmhouse theme for the bathroom, beadboard material is the one you should choose for the wall. If you haven't got any, install a new one. If you already have one, you can paint it to have a grey color, just like shown in the picture.
Another interesting detail you can find in the pic is heart pine flooring that comes from the 19th century. It looks fantastic with the clear finish that protects it while keeping its original look.
Outdoor Bathroom with Concrete Walls and Deck Wood Floor
Wall: Cement plaster
Floor: ironwood deck-like floor
The picture of an Asian bathroom you see above is another example that grey wall tone is not only obtainable from paint. You can also use concrete to get the color. The best thing of all, the appearance is stunningly different from painted walls.
Of course, concrete walls also look excellent to pair with wood floor. To get inspired, take a look at the attractive deck-like flooring in the pic.
Comfortable Bathroom for Boomworm
Wall: greige paint
Floor: light wood floor
Some people love to read while submerging themselves in the bathtub or when nature is calling. If you are one of them, you can choose greige walls to create a comfortable atmosphere for reading.
Pairing the tone with light wood floor can be excellent too. For perfection, do not forget to provide adequate lighting from both artificial sources or natural sunlight.
Cozy Spa-Inspired Bathroom with Stone Walls and Hardwood Floor
Wall: natural stone
Floor: dark hardwood
Are you interested in spa theme for the bathroom? If yes, take a look at this example.
The natural stone material and also the hardwood floor are excellent for building up the theme. Besides, the dark ambiance makes the room cozy and even more relaxing.
7. Final Words
Wow! That was a quite lot of examples of the use of grey walls with wood floor in interior design.
The conclusion that we can get from all of the examples above is that grey walls, no matter what the shade, is quite easy to combine with any wood floor. Although so, different choices of wall tones and wood type can result in a different visual effect. Besides, everything also depends on the room where you use the combination.
So, which one of all the examples we share above that is most interesting to you?