Information about how to light a living room with no overhead lighting might be the one that you need right now. The reasons can be various.
It could because the building process of your house or apartment misses the wiring needed for ceiling lights. It could also because the place that you rent just does not have any lamps on the living room ceiling. Another possible reason is that you are not into the overhead light type.
No matter what the reason is, the most important thing to know right now is how you can add light in the living area without having to include the overhead type. Thankfully, there are solutions to this problem.
The solutions meant here are the 9 alternative lamp types you can use to light the living area.
The information about this is available in this post. Plus, you will also find out more information about the pros and cons of each lighting types we will recommend to you in the following.
1. Battery-Operated Lights
The first alternative we suggest you check out is battery-operated lights. Just like the name, this lamp types does not need any electricity and cable system since the power comes from the batteries you plug in it.
While this may sound like an excellent solution for the absence of overhead lighting, as well as cabling system, in the living room ceiling, of course, it comes with pros and cons.
Pros
The first advantage of the battery-operated light is that it is a very simple choice since you do not have to install any wiring in the ceiling to use it. It also means that you can save cost when using it.
Another excellence is that most battery-operated lights sold at stores come with remote control. It makes it very convenient for you to operate the light.
You do not have to worry about the design because endless options are available just for you.
Cons
This lamp is an excellent choice to pick only if the place is your own. However, if you rent the home and you want to add light by installing this type of battery-operated lamp by mounting it on the ceiling, please do recheck to the landlord first to make sure that you may make some holes on the ceiling to install the light.
If you do not make sure about this thing first, there is a chance for you to pay to the landlord in the future. It is because of the property damages.
The light that is lamp produces can be dim and unreliable. Besides, since you can operate it with remote, there is a chance for you to lose this part so you cannot use the light.
You can consider the problem you could face when changing the batteries as another negative value from this lamp type too.
2. Battery-Operated LED String Lights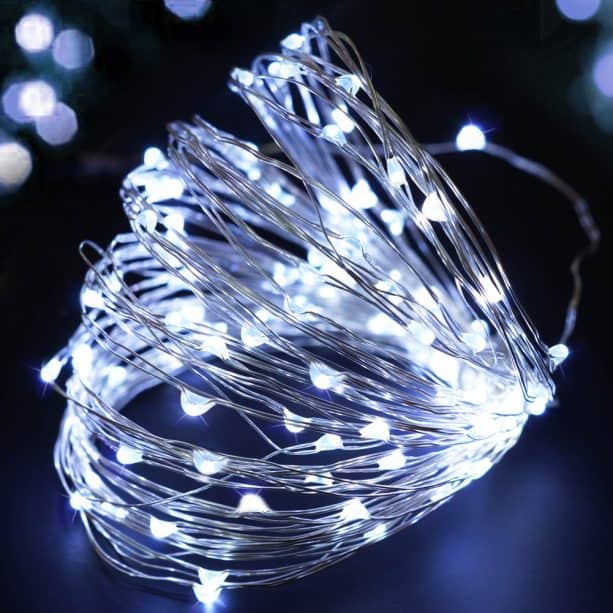 This one also belongs to the category of battery-operated and ceiling-mounted lamps. The thing that most people see from it is that the decorative appearance does add some dramatic and romantic look in any interior.
Pros
When talking about the pros of LED string light with batteries, there are quite a lot of points you can find. For example, it has an excellent safety value so you can install it in the living room even if there are kids or pets in the house.
In using it, you do not need to provide any electrical cord extension. It makes the lamp very convenient to use anywhere.
Last but not least, many people prove that this light is quite efficient when it comes to energy usage.
Cons
Since it belongs to the battery-operated category, it is possible for it to have the same negative points as other lamps in the same type as explained previously.
Those include the fact that you must create some holes to mount it on the ceiling, the unreliable light produced, and the loss of the remote control.
Other than those, some lights in this type also come with sticky tapes, which mean when you need to move to a new place, there is a chance that you cannot reuse them. In other words, you lose your money.
3. Large Arch Floor Lamps
This lamp type is the one that many people choose as an alternative for a living room with no overhead lighting. Despite the very attractive look, it still comes with some pros and cons as we will tell you in the following.
Pros
The most obvious plus point of a large arch floor lamp is that it looks very stylish. Placing one of it in your living room can enhance the decorative value in there significantly.
You can even find an arch lamp to suit your living room style. Of course, looking for the one that is compatible with the interior color scheme is possible too.
Most arch floor lamps you can find at stores are available in an adjustable design. It makes it possible for you to light a specific area in the living room, such as around the coffee table, by directing the fixture above the furniture.
It gets even better because some of the lamps even have a design in which the angle of the arch is also adjustable. Amazing, isn't it?
The last but not least advantage of this lamp is that it is quite simple to use. You will not need to do any specific steps before using it.
Cons
Although all the pros of this lamp type are amazing, it comes with at least three significant cons that you must consider when you are interested in using it in your living room.
First, this lamp is not a suitable option for a small place. The arch in the design itself already takes a lot of space in the living room.
Second, a lamp like this also come with a weighty base to keep it standing and balanced. Because of this, it will be problematic for you to move it from a spot to another.
Third, most of it comes with a cord with a specific length. That is why you need to make sure that the placement is not too far from an electrical socket so you can plug the cord in to get the power required.
Lastly, there is a high chance that this lamp type is quite pricey.
4. Tree Floor Lamps
Another option that would be a great alternative type to fill in the absence of overhead lighting in your living room is a tree floor lamp. For you who are not familiar with it, it is a lamp that stands on the floor and has a tall pole in the design.
However, instead of being the same with a regular floor lamp, it has branches and can accommodate more bulbs. That is why the design looks like a tree with lights.
Pros
The first advantage you can get from this living room lamp type is that it looks beautiful. The design availability also has various bulbs number, shade types, color options, different material, etc.
As for the primary function, since it has more bulbs, it can provide the artificial lighting needed in the living room. Some of this lamp type even comes with adjustable branches.
Some also come with switches which number depends on the number of bulbs in the lamp design. The function is so that you can decide to turn on all lights or just some of them.
The lamp comes in various size options, but it does not need space as much as the arch style needs.
Cons
The very first disadvantage you will find in tree style floor lamps is that it may come with a little bit high price. Although it is reasonable, considering the fancy look of it, still it is something that you should consider thoughtfully.
When you purchase a tree floor lamp like this, it usually comes in an unassembled form, which means you need to install the parts to get it ready to use. Concerning this, some people who have bought it complains that the assembling process is not easy to do.
Just like the arch style floor lamp, this one also comes with a heavy base to keep it standing in balance. Of course, it is also quite problematic since you will not be able to move it around at least you will need a hand to move it to another location.
Talking about location, you also need to place the lamp in the right spot in your living room because it usually comes with a cord with limited length.
The last but not least disadvantage is that you cannot designate the light that this lamp produces to a specific location in the location. This fact also has a relation with the possibility that you will need more than just one tree floor lamp to light the entire living room.
5. Classic Floor Lamp
If you are a simple person and you are not interested in the two previous alternatives, this choice might be the right one. It is a floor lamp that comes in classic style, which is not arch and not tree design.
Pros
When it has lampshade in the design, there is a chance for it to be able to give accent and personalized touch to the living room interior. Of course, not all shades are suitable to serve this purpose.
Adding floor lamps in your living room can also add a classy and elegant touch. Besides, you can also move them around if you want to since it is quite easy to do.
Cons
The function of this lighting type is to fill the light needed in the darker area of a room. If you want to use it to light the entire living area, you might need more than just one lamp.
Another thing that many people consider as a disadvantage of having a floor lamp in the living room is that it takes enough floor space. This fact is the one that makes the light type is not suitable for a small place.
6. String Lights with Bulbs
This one is another attractive alternative you can pick for the living room lighting. Please do not get mistaken because it is not the same as the LED string lights.
This one has bulbs in the design. They are the ones that make the lamp design more attractive.
Pros
The most obvious plus point of this lamp type is beauty. It is so stylish that anyone who comes to visit you will admire it.
In some ways, it can create a cozy atmosphere in the living room. That is why it is an excellent choice to make a rental feel like home.
Lastly, this lamp type is suitable for both big and small living room. However, you might need more light strings if the place is very spacious.
Cons
You will need hooks to install it. It may be a problem when the place is a rental, and there is no permission to create mountings on the ceiling or wall.
Unlike the simple look, the installation is not very easy to do. Therefore you might need more time to finish it unless you already have the experience.
Lastly, you might need more powerful bulbs to get the brightness required in the living area, and this may lead to a high electricity bill. In this case, we suggest you pick powerful but green light bulbs that will give you a more reliable light without costing you more money.
Green bulbs might cost you more money at the beginning. However, it is energy-efficient and is more durable than regular ones.
7. Wall Lights with Plug
Wall lights are other easy choices to pick when it comes to alternative lighting for a living area that does not have any overhead lighting. Although people often use this type of light in any other places like bedroom, bathroom, or a reading spot in the house, it does not mean that it cannot be the suitable choice for you.
Pros
Wall lights are the perfect choice to create a cozy atmosphere in the living room. The cause is none other but the commonly soft light they produce.
These lights are excellent to choose for both big and small interior. For a less-spacious living room, it is also an excellent selection since it does not take any floor space. You don't even need to provide a table to use them.
Cons
The soft light of this lamp type can be problematic too. The reason is that it may be too weak and too focused to light the whole room so when you choose this alternative lighting, you must come with a solution to deal with this disadvantage.
Another negative point is that you cannot install the lights in any wall area in the living room. The reason is that it has a plug so that the location must be close to the wall socket as the power supply.
Even if you can use an extension to deal with it, it may just create an irritating look when you cannot arrange the cable neatly or conceal it.
8. Ceiling Pendants with Plug
If you do not want to take any floor or wall space in adding the alternative lighting for the living room, then ceiling pendants with plug are the options you need to consider more. Just like the other lamp selections we discuss here, this one also comes with advantages and disadvantages.
Pros
Ceiling pendants or even chandeliers are available in tons of stunning design. While, as told previously, it does not take any wall or floor space, it will give a significant stylish boost the living room.
Some pendants even come with fan feature. Something like this can enhance the comfort value in the room.
Cons
Away from all the advantages we mentioned above, there are still some things that you should think about before deciding to select this alternative lighting. The first is about the existence of plug.
It means you must have a power supply around. Besides, you must also make sure that the length of the cable plug is enough to reach the wall socket or else you will need to provide an extension.
The second is about the need for hooks to mount the lamp on the ceiling. Again we say not all rentals come with permissions to create holes on wall and ceiling.
9. Table Lamps
The last but not least alternative to replace the overhead lighting in a living room is table lamps. Let's find out about why it is a good choice and why it is not.
Pros
The most apparent advantage of a table lamp for alternative living room lighting is that it is very easy to bring. It means, if you live in a rental, you can bring it with you when you move into a new place.
Table lamp also commonly does not consume too much energy. It gets even better if the light bulb used is LED type.
It is quite easy to use since you only need to place it on a table and then plug it in a wall socket. Besides, it has a beautiful appearance too.
Cons
One thing that many people consider as a disadvantage of having this lamp type in their living room is that the only way to use it is by providing a table to place it. If they want to spread several lamps in the area, it means they have to provide more than just one table, and it may cost more money.
The use of the table for the lamps is not merely about money. It is also about the fact that it consumes more floor space. It may be a problem if the living room is rather small.
Lastly, the existence of the plug is another problematic thing. It gives limitation about the location of the lamps in the living room.
10. Final Words
Those are the 9 alternative lamp types you can choose to solve the absence of overhead lighting in your living room. With the pros and cons that we have mentioned for each kind, it is sure that you can decide the one that you think to be more suitable for the interior.
Once you decide the type, do not forget to make a plan about the amount of lamp you might need to make the room get an adequate amount of light, especially during the evening. At day, as long as you have enough windows in the interior design, you can always count on to the natural light from the sun.
For some of the lamp type we mentioned above, you might need more than just an item to achieve the lighting goal. If possible and necessary, you can even combine two or more lamp types so that the living room can get an adequate light amount.
So, which alternative lamp type do you think to be the most suitable for the living room in your house or the place that you rent? Share your opinion in the comment section.